The Dalai Lama visits Newport, speaks of compassion and peace
By Lisa Coutu, Bristol Phoenix, Nov 23, 2005
NEWPORT, RI (USA) -- Set on the rolling green lawn of Ochre Court, under an enormous white tent, stretching from the back of the mansion to the edge of the sea, was the stage that would soon hold a distinguished, world renowned guest of Salve Regina University and the Pell Center.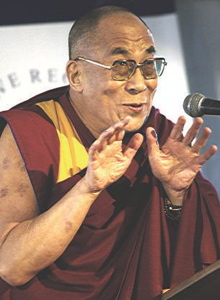 << His Holiness the Dalai Lama talks about the importance of compassion during his lecture, "A Human Approach to World Peace" at Salve Regina University.
The tent created a venue the size of a football field, with huge white projection screens set at various intervals to project the image of a humble monk, a Nobel Prize winner, a spiritual leader from far away with a penetrating message to a crowd of thousands.
By 1:20 p.m., most of the seats were filled and a line still stretched straight down Webster Avenue. Members of the university community, political figures, guests and young college students, temporarily parted from buzzing cell phones and beeping laptops, sat waiting in anticipation. A passerby happening upon the scene might have thought graduation commencement had been rescheduled to a chilly fall day in November, due to the sheer size and grandiosity of the setting.
About an hour later the crowd burst with applause as the Dalai Lama entered the tent flanked by members of his entourage and the Secret Service who intensely and repeatedly surveyed the crowd as His Holiness made his way to the podium, making you realize that you were in the presence of a statesman and a world-leader, and not just an endearingly gentle man. He stopped every few steps to impart blessings and handshakes, moving otherwise composed and well-buttoned, card carrying members of the capitalistic Western world to tears. One moment of direct eye-contact with this peaceful and serious but smiling, grandfatherly emissary was enough to reach them at the core. It was enough to make them feel like he could see who they really were in a split second. And, surprisingly not only enjoy, but love what he saw there.
That a Catholic university was able to extend such a warm and appreciative welcome to a Buddhist spiritual leader, in a time where strict concentration on the differences in religious philosophy has created political barriers and states of war across the world, generated hope in all who attended.
"Genuine compassion is unbiased," said the Dalai Lama from the stage, "There are many different approaches to religion. They all carry the same message, although they may be philosophically different."
The differences are important, because that is how they serve many different people, he went on to say, but we should recognize and concentrate on the sameness. We should find compassion and closeness based on this sameness, "this one-ness." When people from all fields meet from a place of compassion, that's when justice will come.
This realization of compassion first must start with the individual and from a less self-centered attitude. "Decisions become wrong decisions under the influence of inner armament." The hard part is recognizing when defenses and emotion are getting in the way of decision making.
To this end, the Dalai Lama relayed a story of a fellow who was working under a car. He was disturbed and tried to get up from the under the automobile too quickly and banged his head. He became so upset and full of temper that instead of calmly pushing himself out from under, he kept banging his head over and over on the car's undercarriage. The Dalai Lama exclaimed, "Car not suffer!
He suffer, but car not suffer!" to the delight and hysterical laughter of the crowd. This simple story illustrated how we all can behave irrationally under the influence of emotion, and then feel regret for our actions once we've calmed down. "Anger deceives us," he said. "Try to distance yourself from anger."
The more compassion you generate internally, the more it brings inner strength, he explained. The more compassion increases the more hatred decreases, like a container that can only fit so much oil and so much water. This "inner disarmament" is the only way we can achieve "external disarmament" and peace in the world. "Human affection is the foundation of proper development."
To a small baby, physical touch and love is the most important thing. In this way it funnels to the individual through the family, and then on to the community and into the world.
The Dalai Lama showered his attention on the rapt audience of young college students in attendance, noticing their "beautiful, fresh faces." full of energy. "
And perhaps a little lacking in patience," he said mischievously, spilling with laughter. He said this would be the generation to understand that compassion and knowledge are what makes true wisdom. He impressed upon the students that they could use this wisdom as a tool to bring about peace in the way he was describing.
When asked later, with all the terrible things going on, what he would change about the world, if there were only one thing, he answered, "I don't know." He described himself as "too idealist" to answer that question because he wouldn't want to change just one thing.
To many people, seeing the news headlines the day after, "The Dalai Lama Says Compassion Leads to World Peace," "idealist" may seem an appropriate word to describe him. It's easier to believe that people will never be able to solve problems with a "spirit of reconciliation" as he hopes they will someday.
But when other world leaders sit in rooms deciding tactics and strategies in order to further promote their views, the Dalai Lama not only expounds but emanates love and peace as his only agenda. He quenches the thirst of thousands with his simple way of being, his ability to look past differences and directly into souls and his belief that someday we will live in a peaceful world.
The people who came to visit him that day were evidently moved. They left saying, "Maybe ...just maybe ...."