Buddhist monastery wants to build prayer hall
By Michael Valkys, Poughkeepsie Journal, November 24, 2005
Poughkeepsie, New York (USA) -- A Buddhist monastery in the Town of Poughkeepsie hopes to construct a 36,000-square-foot prayer hall on the property it has called home for more than 25 years and once hosted a visit by the Dalai Lama.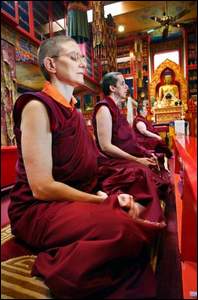 << Karl Rabe/Poughkeepsie Journal
Members of the Kagyu Thubten Choling Buddhist monastery need more room for prayer and have proposed an expansion
The Kagyu Thubten Choling Monastery off Sheafe Road has submitted details of the project to the town planning department and the matter could come before the planning board for approval in January.
The monastery has already received a needed variance from the zoning board for the two-story prayer hall.
Peggy Turco, a nun who has lived at the monastery for the past decade, said the new, larger 36,000-square-foot building would allow the monastery's residents and visitors to gather in a more suitable atmosphere.
"We've been making do with a loft in a converted factory building," Turco said of the monastery's current gathering place for worshipers. "This would be a traditional and proper sacred place where these things should be occurring."
The monastery is on about 8.4 acres and home to 20 to 30 people at any given time. It hosted a visit by the Dalai Lama in 1997 when he toured the Hudson Valley.
Turco said services are held every Saturday on the property and would move to the new prayer hall once it is open.
Construction in phases
Turco said once approvals are gained, it may take several years for the project to be completed.
"We are beginning fund-raising now," Turco said. "It's a major undertaking for us."
She said work would most likely be done in phases.
Sheafe Road resident Victor Gennodie said the monastery is a quiet neighbor and that the addition of the prayer hall should not be a problem.
"They seem really low-key," Gennodie said. "It's no big deal."
The monastery has at times offered weekly meditation and Tibetan language classes. It has also forged relationships over the years by hostings classes from nearby Sheafe Road Elementary School, Marist, Vassar and Dutchess Community colleges and the State University of New York at New Paltz.
According to its Web site, Kagyu Thubten Choling, or "Garden of the Buddha's Teaching," began as a simple one-story building overlooking the Hudson River.