Built grain by grain, then destroyed
BY JUSTIN VELLUCCI, Asbury Park Press, Dec 1, 2005
SAND ART: Created by Buddhist monks at Brookdale Community College
MIDDLETOWN, New Jersey (USA) -- Tenzin Thutop remained stone-faced and calm Wednesday as he methodically destroyed the sacred sand artwork it had taken him three days to create.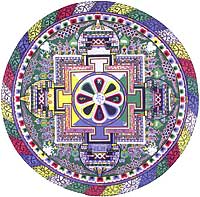 << A Mandala
"(There's) a sense of achieving our goal: to finish," the Tibetan Buddhist monk said when asked what was going through his mind as he prepared to sweep away the intricate piece of sand art and cast its particles into a Thompson Park lake.
"I focus on Buddhist concepts of (our) impermanent nature," Thutop said. "You need to know our lives are not solid. Our lives are transitory. Our lives change moment to moment."
So did the sand mandala.
At 3 p.m., the mandala, or "sacred circle," that Thutop had created grain by grain with fellow monk Lobsang Gyaltsen in Brookdale Community College's Center for the Visual Arts exploded with fluorescent colors and painstakingly handcrafted designs. Within 30 minutes, it was no more than a pile of gray-beige sand — a reminder, perhaps, that it was not the contents of the mandala, but the vision of those who crafted the work, that made it resonate with viewers.
Ellen Schmittler was almost at a loss for words when she saw the approximately three-foot-by-three-foot mandala for the first time Wednesday.
"Oh! That's it . . . it's absolutely amazing," said the Hazlet resident, who came to the gallery after her 13-year-old granddaughter heard about the piece. "It would take years and years and years to become proficient in this. It's absolutely breathtaking."
It's also a relatively new phenomenon for Western art-appreciators, as the Dalai Lama only recently permitted sand mandalas — which invoke deities and suggest the structures of the universe — to be created in public.
Their construction, sometimes accompanied by chanting, frequently resembles meditation more than it does the glacial pace of building art out of grains of sand.
It was the rareness of the event that drew RoseMary Mantineo, a Freehold Township resident and art student, to the dismantling ceremony.
"I thought this would be a great opportunity to actually see the making of the mandala," said Mantineo, who was taken with the concept of destroying the work once it was completed. "You have to soak up everything you see that instant because that image has to be (in your mind) forever."