Count every breath
by PAM GREENE, The Post Standard, April 11, 2006
Syracuse, NY (USA) -- The giant white room at the Zen Center in Syracuse smelled like incense and candles. Twenty black cushions lined the floor in two rows stemming from each side of the Buddhist altar. Japanese art decorated the front wall.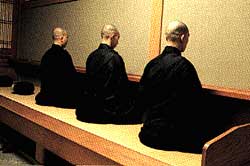 Darrick May, 27, tucked his feet beneath a round cushion and sat back on his heels. The first-year Upstate Medical University student and Syracuse resident was about to try meditating for the first time Thursday. He's interested in better understanding the link between mind and body, he said.
"I would like to take more focus in the present moment," he said. "I want a better understanding of myself."
Some of the sitters positioned their legs with one ankle in front of the other. May's legs weren't flexible enough, so Jikyo Bonnie Shoultz, a nun at the Zen Center, showed him how to sit with his legs tucked beneath him.
As meditators entered the Zendo, or meditating room, they bowed to the altar and to those in the row in front of them. They were barefoot, and many wore brown or black robes. They gazed about 3 feet in front of them and breathed through their noses. The goal was to stay focused on the breathing, counting breaths, for as long as possible.
"Your mind will probably wander," Shoultz said before meditation began. "But when you find your mind is way off, say, 'OK, go back to one (breath).' "
She warned that the first time meditating is uncomfortable.
"Breathe through the discomfort," she said. "Nobody is judging anything, so you don't need to judge yourself. Just go back to one."
Before the first 20 minutes of silent meditation began, the group chanted the Kannon Sutra 18 times in Japanese. The sutra is intended to stir thoughts of compassion for the ill or injured - in this case for Carol Johnson, a member's relative who is healing after a serious accident.
With each chant, the intensity and speed grew. After the 18th chant, the group fell into a sudden quiet and the silent, still meditation began unceremoniously.
Almost immediately, the urge to squirm was almost consuming. May breathed through it.
After a few minutes, his feet began to fall asleep. He breathed through it.
His mind began to wander. He focused on his breaths.
After about 20 minutes, a bell rang and a wooden instrument called a han told the meditators it was time to walk around the room and outside in a single-file line around the Zen Center's backyard.
May was initially unable to stand. "I couldn't wake up my toes," he whispered as the meditators began their walk. "At one point, I thought: Is it OK that no blood is flowing through my legs?"
After the walk, the group returned for a second, 30-minute round of silent meditation. At first, sitting still for so long was unbearable, May said. "I tried to change positions," he said. "It didn't seem to get any easier."
After the meditation, May said he'd like to find out more about what the rituals mean.
"I think it would help to understand the rituals because I found myself wondering what was going on," he said.
Update
After the group mediation, the newcomers were invited to have cinnamon tea and pecan cookies with Roko Sherry Chayat, leader of the Zen Center.
The first question came from one of the newcomers: What is the goal of meditating?
"The goal is to realize that we are, at this very minute, the goal," she answered. "We are in the midst of a culture that tells us to get from point A to point B. You have to basically serve commerce. We feel like rats in a hamster wheel, and to come to a place like here where it is OK just to be, we don't have to do, we just be."
After the tea, May said he plans to continue coming to the Zen Center.
"I like the feeling that I get from the people here," he said. "They seem like calm, happy people, and I think it has a lot to do with the practice."