Buddhist martial arts master scouting site
By GARY SOULSMAN, The News Journal, Sept 27, 2006
Abbott from Shaolin Temple considering temple in Delaware
Wilmington, Delaware (USA) -- One of China's leading masters of Buddhism and martial arts, Abbot Shi De Li of the Shaolin Temple, is visiting Delaware to see whether it's possible to build an American offshoot of the temple in the mid-Atlantic region.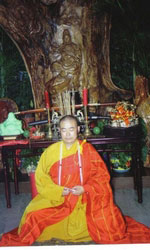 << Martial arts master Abbott Shi De Li of the Shaolin Temple in China will teach classes in Newark and Wilmington. Courtesy of Kevin Sun
Master Kevin Zhenkang Sun is hosting the abbot at his Wilmington home until Oct. 4 when Li flies to Europe. Sun is a fourth-generation practitioner of tai chi and has created a new martial arts form that's a blend of tai chi and kung fu.
"I'm trying to persuade the abbot how good Delaware is for the Shaolin Temple," said Sun, who teaches students at the University of Delaware and other venus.
Sun says he's toured the Atlantic City area and wants to scour the Wilmington area, scouting for locations. John Rago, communications director in the Wilmington mayor's office, says the economic development office will talk to the abbot.
Shaolin Temple has more than 70 resident monks and is located in the Henan Province. Shaolin is one of the few disciplines to combine Chan Buddhism, the Chinese form of Zen meditation, and kung fu.
It's a blend that's at least 1,500 years old and is popular in the United States, with hundreds of American pilgrims traveling to the temple each year. They often arrive showing how poorly they've been trained, Li said.
That's one reason he would like to see a temple established here. In recent years, other monks who've trained at the temple have moved to the United States and begun to teach American students. Li's efforts would create an official branch of the Chinese temple.
This blend of Buddhism and martial arts was popularized in the '70s TV show "Kung Fu." The show followed a Shaolin monk, played by David Carradine.
Li, who has been training for more than 30 years, is an authority on meditation, breathing and kung fu. He is one of three abbots at Shaolin.
During his stay, he is leading classes in kung fu Wednesday and Thursday from 7:15 to 8:30 p.m at Sun's second-floor martial arts studio, 181 E. Main St., Newark.
And on Saturday from 10 to 11 a.m. he will teach a class in qi gong, a practice of movement and breathing, at the Lorelton, 2200 W. Fourth St., Wilmington.
People who attend are asked to make a donation to the temple. For information call 373-2918.