Buddhist monks step across state for peace
by Matthew J. Webster, Gloucester Times, March 8, 2007
Leverett, MA (USA) -- Dressed in a yellow robe despite the freezing cold and wind, the Venerable Kato, a Buddhist monk, beat a handheld drum as he marched down Main Street past the Essex marsh yesterday accompanied by eight local supporters.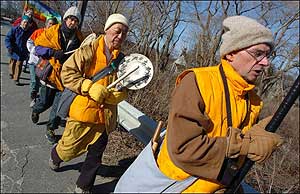 << Monks Tow-Bee, right, and Kato of the Peace Pagoda of Leverett walk with supporters along Route 133 near Farnham's in Essex yesterday. The monks' four-week march, the Walk for a New Spring, started in Leverett on Feb. 18 and will finish in Boston on March 21. The group walks every year in support of peaceful solutions to conflict locally and globally. This day, the group walked from Ipswich to Gloucester. Mike Dean/Mike Dean
Kato and Tow-Bee, another Buddhist monk based in the western Massachusetts town of Leverett, chanted in slow drones as they walked to Gloucester, their final destination for the day.
The seven-syllable chant means "prayer for world peace and inner peace" in Japanese.
It is the only prayer the monks will chant as they complete their monthlong Walk for a New Spring around New England, sometimes covering as much as 20 miles a day.
Kato, 66, and Tow-Bee are based at a retreat called the Peace Pagoda in Leverett, where they welcome people to come and learn about Buddhist spirituality.
Speaking over lunch at First Universalist Church, Kato said he began the Walk for a New Spring in 2002 to promote a message of peace to the greater community.
"After Sept. 11, the country was petrified by fear, not only because of the attack, but because of the government," Kato said. "We felt it wasn't healthy and we wanted to loosen the situation, so we walked around praying, making contact with the community and talking about peace. The first year, people saw us walking with peace signs and thought we were unpatriotic. Some threw snowballs and beer bottles. (The response) was very unfriendly."
"Then in 2003, the administration started the war in Iraq and the direction of the wind started to change again," he continued. "This year in particular, the majority of people wave to us silently. We've had very few negative responses," said Kato, who is originally from Japan.
After resting in Gloucester last night, the peace march was scheduled to proceed today on an 18-mile journey to Salem.
Kato's companion, Tow-Bee, is originally from Ashfield and has been involved with the Peace Pagoda since 1989.
"We want to carry the message to as many people in the community as possible," Tow-Bee said.
He said the monks also meet with mayors around the state and encourage them to join the Mayors for Peace campaign to abolish nuclear weapons by 2020.
Asked if it was uncomfortable walking in the subfreezing weather, Tow-Bee said the monks chose the month of March for its spiritual symbolism.
"This is a time of winter, where nations are hostile to each other," Tow-Bee said. "As we march into spring, we have the thawing and warmth of spring. We're also supported by the spiritual strength of the people who walk with us and who provide meals and hospitality."
Tow-Bee also voiced a message of political activism.
"It's not enough just to vote Democrat. People have to make contact with their congressmen and representatives to support them and tell them how they feel," he said.
As the Walk for a New Spring proceeded down Main Street about 2:30 p.m. yesterday, at least six passing drivers waved to the group, flashed the peace symbol or honked horns in support.
"I marched for a short time last year and was inspired," said town resident Connie Cerrido, 78, as she followed the monks. Cerrido retired in 1990 after teaching at Essex Elementary School.
Liam Gorman, 12, walked near the front of the group.
"I think it makes a difference," he said of the march. "It tells people in the town it's the right thing to do. They see our support and it makes them believe in peace."