Temple to celebrate Buddha's birthday today in Tappan
By GERALD MCKINSTRY, THE JOURNAL NEWS, May 20, 2007
Tappan, NY (USA) -- Gilsang Haeng reverently knelt and then bowed in front of the altar as a priest chanted scripture and occasionally banged a drum in front of a grand gold Buddhist statue.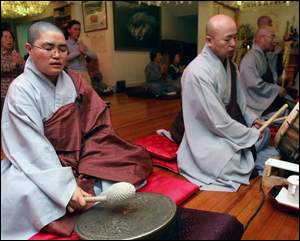 << Buddhist nun Sunmun and monk Hae-an play traditional instruments during a prayer service at the Korean Buddhist Bulkwang Zen Meditation Center. The center is off Route 303 in Tappan, one of Rockland's historic hamlets.
Haeng, who was holding a set of beads and surrounded by hundreds of handmade lotus lentens that adorned the ceiling, must have gone through that routine hundreds of times during the nearly one-hour service.
She was taking part in a traditional Buddhist prayer service and was trying to awaken her divine nature. The 75-year-old Old Tappan, N.J., woman wasn't off in Shangri-La or on some far-off mountainside, either. She was right here in Orangetown.
"When I come to the temple, it makes me feel very peaceful," she said recently through an interpreter. "It helps me get connected to the compassion of the Buddha."
The Korean Buddhist Bulkwang Zen Meditation Center is tucked away in woods off Route 303 in Tappan, one of Rockland's historic hamlets better known for its connection to the American Revolution than for its ties to Prince Siddhartha Gautama, the founder of Buddhism.
The center itself is unique. Located on six acres between Kings Highway and the Daimler Chrysler business center, Bulkwang is not readily visible from the road.
Pockets of evergreen trees and bamboo camouflage the property. Housed in a historic, colonial-looking home, the temple is far different than others found in South Korea or other parts of the Far East. Inside, however, one might as well be a million miles from Route 303.
Buddhism was founded around 500 B.C. by Siddhartha in India. It is now one of the world's largest religions, with approximately 360 million followers.
There are many variations, or forms, but the basic tenets are the same, said Haemin Sunin, an associate priest and Buddhist monk for the past nine years.
"The aim is the same. We all want to become the Buddha," he said. "We all want to experience the divine nature within us."
Sunin, which is actually a title for Buddhist monks that means venerable, said the two main aims of Buddhism were the cultivation of wisdom and of compassion. Buddhists believe that and recognize there are different manifestations of the Buddha, he said.
The center is hosting a celebration today for the Buddha's 2,551st birthday. It will begin at 11:30 a.m. with traditional chanting and be followed by a lighting of the lantern ceremony. It also will include a Dharma talk by the temple's abbot, Hwi-Kwang, a brief meditation session and traditional Buddhist music. The public is invited.
For more than 10 years, Bulkwang has quietly served its members, about 700 families from southern Rockland and northern New Jersey, the monk said.
That may change, he added, because there is growing interest in Buddhism and the temple. About seven months ago, he said, the center put up its first sign in English - previously it was only in Korean - and visitors came knocking.
"We didn't expect this kind of enthusiasm from the neighborhood," he said. "There has already been a demand from the community. We've had a steady stream of people."
Bulkwang has morning, midday and evening services and a traditional Sunday service. In June, the center will add a meditation class for community members who are interested in learning about that facet of Buddhism.
"Our mission is to have a great relationship to the community and the Buddhist community," Sunin said.
To accommodate a growing interest in Buddhism, Bulkwang also has plans to build a two-story, approximately 6,400 square-foot temple on its property. Plans are before Orangetown's land use boards. The proposed building would match the style of the existing structure, the associate pastor said.
"His ultimate intention is to spread the teachings of the Buddha to the West," Sunin said of Abbot Hwi-Kwang.
John Kang, a 66-year-old from River Edge, N.J., said he started practicing more than four decades ago and identified with its teachings.
Kang said meditating helped him focus and remain in the moment. He said his goal was to recognize the Buddha's qualities that were within himself.
"Buddhism starts from me," Kang said after a recent prayer service. "The goal is to come back to me.