Buddhist art teaches compassion
By GARY STERN, THE JOURNAL NEWS, May 26, 2007
Dobbs Ferry, New York (USA) -- A mandala is a temporary work of art in a world that prizes endurance, an impermanent tapestry of sand in a culture that is forever seeking the fountain of youth.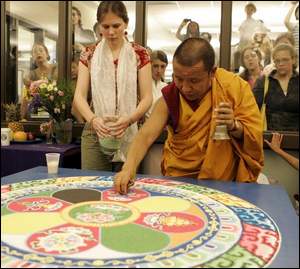 << Students watch as the Venerable Tenzin Yignyen, a Tibetan Buddhist monk, creates a mandala at The Masters School in Dobbs Ferry.
It is created with precision and prayers, according to Buddhist tradition. Only to be washed away.
The Venerable Tenzin Yignyen, a renowned Tibetan Buddhist monk who was ordained by the Dalai Lama, has spent the past several years creating mandalas - and then destroying them - at schools and museums in the United States.
He spent this week at The Masters School, a premier boarding school in Dobbs Ferry, teaching his lessons by crafting a brightly colored mandala, filled with messages and meaning, in a study room outside the school's library.
He worked eight hours a day as students came and went, asking him questions, bringing him tea, watching him work.
"It's been pretty amazing, to see him start from scratch on a flat table on Monday and to have a work of art on Thursday," said Henry Ginna, 15. "I saw him fill it out, bit by bit. It takes patience, precision, perseverance - artistic creativity and a spiritual drive."
Yesterday afternoon, students and teachers marveled at the finished product, a circle about 4 feet in diameter, its symbols and lines so perfectly constructed that it looked like a painting. One had to get within several inches of the mandala to see the grains of sand that composed it.
Tenzin, a short man wrapped in gold and burgundy robes, said he had created a mandala of compassion.
"It tells how important love and compassion are in our life, how love and compassion can change our day-to-day life, for the individual, for family, for country, for world peace," he said. "It tells that we must carry through obstacles that can obscure your compassion. The tradition holds that love and compassion are the source of happiness."
Different symbols in the mandala, he explained, represent our positive inner qualities - patience, generosity, wisdom, appreciation. A lotus stands for compassion itself.
Other symbols stand for hurtful qualities like attachment, hatred, pride, ignorance, jealousy.
The colors of the mandala each represent elements, he said: white for water; yellow for earth; red for fire; black and blue for air; and green for space.
"It is very different from other arts," Tenzin said. "Your intention must be pure. You must concentrate, meditate on good qualities. I visit schools because kids want to learn. They understand the message, how important love and compassion are in our lives. The message is not shared with them. This is my calling."
Tenzin was ordained by the Dalai Lama in 1976. He completed 16 years of study at the Dalai Lama's monastery in India in 1985. He now lives in Geneva, N.Y., between Syracuse and Rochester, where he teaches at Hobart and William Smith Colleges.
He has constructed mandalas at dozens of colleges and museums nationwide and as far away as Moscow and Mongolia.
The mandala is a 1,000-year-old Buddhist tradition that symbolizes, in its creation and destruction, the creation of the universe and Buddhist beliefs in impermanence and the interconnectedness of all things.
Its very creation is a meditation that is supposed to purify its environment and promote harmony in the world. The overall diagram, according to Buddhist tradition, represents many things, among them: the dwelling place of a deity (even though not all Buddhists are theists), the Buddha's enlightened mind, the palace of the Buddha and the universe itself.
Just a few days ago, a mandala being created in Union Station in Kansas City, Mo., made national news when a small boy innocently danced across it. The monks simply went back to work.
Tenzin created his mandala by using a funnel with a tiny opening to place a few grains of sand at a time into a pattern. He would rub an empty funnel gently over the sand-filled funnel to make the sand flow, just so, as students watched.
"It was truly transformational," said Ellen Cowhey, who teaches world religions at the school and helped bring Tenzin to Dobbs Ferry.
"It was amazing to see the best of the students come out, seeing them with the teacher, bringing him tea, the reverence. It was almost an ancient way of learning."
Then came what is called the dismantling ceremony.
With dozens of students huddled tightly around him, Tenzin repeated the project's message - "Don't put off happiness. Who knows if there is a future or not." - before picking up small bits of sand with his fingers.
Before long, students were helping to brush the sand toward the mandala's center into a pile.
Tenzin then led a procession of students and teachers to the Hudson River, next to the Chart House restaurant. After several minutes of silence - closely watched by baffled onlookers - Tenzin poured the now gray sand into the water.
Impermanence. Continuity. Dust to dust.
After some applause, he said farewell to the students.
"Have a nice life," he said. "Have a happy life."