Oracle speaks on global warming
By Jamie Bussey, Frederick News-Post Staff, July 16, 2007
Tibetan Buddhist suggests worldwide cooperation may help slow process
Frederick County, Maryland (USA) -- A Buddhist who has seen waning snowfalls and extensive deforestation in his native Tibet believes the nations of the world must come together to address global warming.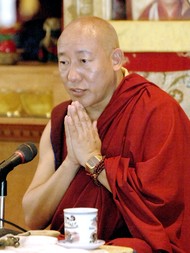 << Venerable Thupten Ngodup, Chief Oracle of Tibet, speaks about global warming during his visit to the Tibetan Meditation Center on Sunday. Photo by Skip Lawrence
The Chief Oracle of Tibet, Venerable Thupten Ngodup, spoke on global warming and personal responsibility at the Tibetan Meditation Center in Frederick on Sunday.
"He's certainly a well-known figure within Tibet and we feel very honored to have him here," said, Khenmo Trinlay, a nun at the Tibetan Meditation Center.
Ngodup said everyone should be concerned about global warming -- not just dharma practitioners.
The scientific community acknowledges that humans have already negatively impacted the environment and quality of air, Ngodup said. For example, in areas of Tibet, yearly snowfalls have disappeared.
"The plateau that Tibet is on will cause changes and effect major parts of Asia, as well as other parts of the world," he said through his translator, Eleanor McCain.
Ngodup proposed that developed and developing countries work together to slow down the process.
"I feel in a sense that we are all beings on this globe and that there is an interdependence with ourselves and the people across the globe," which is why nations must create policies together to solve the issue, he said.
Many people fear it is too late, but "I myself don't think it's too late," Ngodup said.
The Tibetan government traditionally consults with the oracle on political issues and the potential for natural disasters. Ngodup also serves as a member of the Tibetan government, works with the Dalai Lama and is the Abbot of Nechung, a small monastery in Tibet.
Although global warming was Sunday's topic, it is not the sole reason for Ngodup's visit. He is visiting Frederick as well as centers in Washington, New York, Denver, Chicago, Los Angeles and Miami as a part of his Deyang Monastery project.
Ngodup began rebuilding the Deyang Monastery, in South India, in 2001, and is using a U.S. tour to gain funding for its completion.
Ngodup briefly talked about the monastery, but spent most of his time discussing Buddhist beliefs, telling the story of Nechung monastery, and describing how one becomes the Chief Tibetan Oracle.
The first step to becoming the chief oracle is having a spontaneous trance. Ngodup experienced his first trance on March 31, 1987, during a Buddhist ceremony. After that trance the Dalai Lama advised Ngodup to go on a retreat, Ngodup said.
On September 4, 1987, the Tibetan government recognized Ngodup as the Chief Tibetan Oracle.
At the conclusion of Sunday's event, Ngodup performed the rare Vajrakilaya Blessing.
"It's a special ancient treasure of Tibet," McCain said.
The blessing is meant to heal and allow for transformation, Ngodup said.