South Hills church offers meditation to 'awaken'
By Erin Gibson Allen, Pittsburgh Post Gazette, September 13, 2007
Mt. Lebanon, PA (USA) -- Wearing floor-length orange and saffron-colored robes, David Clippinger pads barefoot around the kitchen in the Unitarian Universalist Church of the South Hills in Mt. Lebanon. He is cooking miso, or soybean, soup; steamed vegetables and rice for two-dozen or so people in a room down the hall.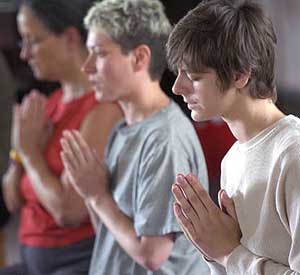 << Rebecca Droke/Post-Gazette
Liz Snyder, right, and Shawn Curry, center, both of Dormont, and Julie Ann Sullivan pray during the Mountain Wind Zen Meditation retreat Saturday at the Unitarian Universalist Church of the South Hills.
The people sit cross-legged on cushions, forming a rectangle, facing outward. Their eyes are closed. They are silent, motionless and expressionless. Their shoes rest in the hallway.
After half an hour of silence, Dr. Clippinger enters the room, sits, claps together two blocks of wood, and rings a bell. The group slowly stretches, then stands, blinking as light hits their eyes. They appear calm and focused as they prepare to eat their vegetarian lunch.
This group of people was participating in an all-day workshop on Zen meditation. Mountain Wind Zen Meditation, founded in 1996 in Cleveland, offered this program to teach beginners and experienced practitioners the art.
Mountain Wind Zen Meditation has a sangha, or group of followers located in Pittsburgh. Dr. Clippinger, a Buddhist monk and resident teacher with the group, organizes periodic workshops like these to teach about Buddhism and the art of meditation.
Buddhism originated in India and dates to 563 B.C. with the birth of a man named Siddhartha Gautama. Born into a royal family, he decided as a young man to leave his sheltered existence.
He was shocked to discover poverty and suffering in his homeland.
The belief is that, after wandering the land on a spiritual quest, one evening the Buddha-to-be sat down under a tree, where he meditated for many days, eventually experiencing the "Great Awakening." During his remaining years, the Buddha taught his insights, or Dharma, to his followers.
Zen Buddhism, which the Mountain Wind group practices, is a school of Buddhism that de-emphasizes theoretical knowledge in favor of experience.
The goal of Buddhism today remains to experience this sense of being awake, said Dr. Clippinger's teacher, Abbot Shih Ying-Fa, of Cleveland. There are degrees of being awake, he said, with the ultimate goal being the experience of "highest perfect enlightenment."
Students are taught to sit in silence, and train their minds to concentrate. They are encouraged not to be attached to the outcome or goal of meditation, but just to "be." The student is not looking for enlightenment while meditating, explained Ying-Fa, but is hoping to wake up to what he already is: boundless love, compassion and wisdom.
Although they both agree that interest in Buddhism is increasing, Dr. Clippinger and Ying-Fa believe that many Americans harbor misconceptions about the practice.
They don't worship the Buddha, they insist, and there is no pressure to convert. Many of their students, they explain, come from other religious denominations and simply want to learn to meditate. "There are as many reasons people seek meditation as there are people," Ying-Fa said.
Dr. Clippinger said meditation can serve as a tool for dealing with stress. He believes that meditation has a physiological impact on the body that can improve a person's sense of well-being and even ameliorate conditions like depression.
Mountain Wind offers ongoing classes and special workshops to the public. The group meets at 7 p.m. on Wednesdays at the Unitarian Church, 1240 Washington Road. And, an introduction to Buddhism class, which started yesterday, meets at 8 p.m. Wednesdays.
Shawn Curry, of Dormont, only recently started to attend classes and workshops although she has been interested in Buddhism for much of her adult life.
Like her teachers, Ms. Curry meditates 40 to 60 minutes daily, and believes her practice provides her with a "wonderful sense of peace."
"Your mind is like a house," she explains. "Meditating is like taking out the garbage. Imagine what a house would be like if you never took out the garbage."
Ms. Curry said that if she meditates regularly, she is able to take a heightened sense of awareness with her throughout her busy life.
While Buddhism encourages its practitioners to dwell in the present moment, Ms. Curry, a thin woman with short, stylish hair who is enrolled full-time at beauty school, envisions a bright future for herself.
Her meditation practice has become so meaningful to her that she recently decided to start study to become a Buddhist monk.
"Cutting hair is very Zen," she said, after finishing her miso soup.
For more, call 412-480-9177.