Buddhist temples rising all over Western Pennsylvania
By Arthur L. Clark, Pittsburgh Tribune-Review, November 15, 2007
Pittsburgh, PA (USA) -- John Ott faithfully attended St. Ferdinand's Roman Catholic Church until 2002, when he left Warrendale to attend graduate school.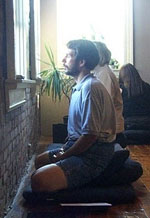 << Stillpoint Zen Community
Helen Emery/Tribune-Review News Service
When he came back home, Ott did not return to his parish. He joined the Zen Center of Pittsburgh Deep Spring Temple in Bell Acres, one of a growing number of Buddhist temples in Western Pennsylvania.
"Once I showed up (at the Zen Center), I pretty much didn't leave," said Ott, 38. "I felt like I had come home."
The number of U.S. Buddhists has doubled to more than 2 million since 1990.
"Every country (Buddhism's) gone into, it's ended up being a major religion," said the Rev. Kyoki Roberts, head priest at the Zen Center, which has 33 active members.
At least seven other temples and sitting groups -- representing a variety of traditions -- including a Theravada temple that started up last year, have opened near Pittsburgh.
"I think the community here is quite different than the community in China," said Shaun Yuan, a graduate student studying at Carnegie Mellon University who practices at the Zen Center. "In China, the temples are very big. Here, it's more like a community than a temple."
Local Buddhists say the growth has been gradual.
"It's growing, but I wouldn't say it's exploding," said Doug Gouge, 62, a retired business owner who practices at the Zen Center.
People come to Buddhism in a number of different ways, said Don Orr, president of the Stillpoint Zen Community in Lawrenceville, which has 24 members.
"Some come to it because they feel they need to fill a hole somewhere," Orr said. "Someone dies, someone gets very sick. A relationship just falls apart. They get a dumb slap of life. And they look at themselves and they go, 'You know what, I don't want to keep doing what I'm doing.' So they have a drive to get those answers."
Ott said practicing Buddhism helped him deal with depression. Now he's considering whether to give up teaching violin to become a Soto Zen priest.
"I was a very angry person when I first showed up here," he said. "That has certainly changed quite a bit."
Part of the greatest intrigue for newcomers includes the amount of spiritual responsibility placed on the practitioner, Orr said. Though some might teach, every individual is responsible for his or her own spiritual practice.
Some groups do not even have a formal leader. The Stillpoint Zen Community doesn't have a formal teacher, Orr said.
"We're like the equivalent to Quakers in Christianity," Orr said. "We're a lay group, so there's no authority based on formal hierarchy, which is not to say that Zen Buddhism is full of hierarchy, but we're a group that has steered clear there."
Even at a place such as the Zen Center, which has formal teachers, individual students are responsible for themselves, members said.
"A lot of people are really misguided in that, 'Oh, a teacher is going to make my life work,' " Gouge said. "You really are responsible in a bigger way than you ever thought."
Personal responsibility for one's own happiness is one of the main reasons that people are so attracted to Buddhism, Roberts said.
"Kyoki has a way of putting the practice in terms where it is applicable, where you can apply it to your daily life," Ott said. "She has understanding of practice that comes from a very deep place, in that she's been sitting for many years."
Although Ott stopped attending his Catholic parish, practicing Zen Buddhism does not have to mean giving up one's Christian faith, said Wendy Merrill, a psychologist who practices at Stillpoint.
She pointed to "Zen Catholics" such as the Rev. Robert E. Kennedy, a Jesuit who is an American Catholic priest and an ordained Zen Roshi. Kennedy is nationally known for his books, such as "Zen Gifts to Christians" and "Zen Spirit, Christian Sprit."
"I don't think there's anything inherently contradictory about Christianity and Buddhism," Gouge said. "You certainly could be a Christian and Buddhist. Speaking from the Buddhist side, we've got no problem with it."
Ott became Buddhist, saying he no longer connected with his church.
"Just taking the chance to look at what I was doing with my life, and where things were going, it helped so much," Ott said. "Just having a sense of clarity, a sense of purpose in what I was doing has helped so much."
Ott will stay at the Zen Center, probably for at least a year, and undertake a rigorous practice, including meditation, bowing and introducing new students to the practice.
"When you take up ordaining, then you're saying this practice is very important, and that you want to transmit it to other people," Ott said. "There doesn't seem to be many people stepping up to do that. And if I'm needed to be helpful in that way, I want to be."