The Chanting, Rollerblading Monk at the Met
By Corey Kilgannon, City Room - New York Times Blog, November 26, 2007
New York, USA -- Every weekend, Kazutaka Yamada, straps on his blue Rollerblades and heads from his Chelsea apartment to the Upper East Side.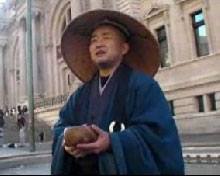 << Kazutaka Yamada, known as Kossan, is a rollerblading Buddhist monk who offers prayers to passerby in front of the Metropolitan Museum of Art
He is quite a sight weaving through traffic in his heavy blue monk's robes, and after navigating the city's streets and gliding through Central Park, he stops in front of the Metropolitan Museum of Art. He sheds his skates and puts on black shoes and a large, cone-shaped straw hat, then holds out a wooden bowl and for hours on end, chants in Japanese the same four lines of a Buddhist prayer.
Mr. Yamada, also known as Kossan, says he is a Zen Buddhist monk and meditation teacher from Tokyo. He says he solicits donations from museumgoers and offers a spiritual eye in the urban storm by publicly chanting a Rinzai form of Zen Buddhism. From the Four Great Bodhisattva Vows, he chanted the last one, which is, "However endless the Buddha's way is, I vow to follow it."
He looks so East-meets-West, this robed Buddhist monk at the Met, chanting with eyes closed before the ornate museum facade. Some stop, some stare, and some ask to pose with them for a picture.
"New York is a very quick and noisy and a crazy place," he said. "I think sometime people need to calm themselves down. I believe my chanting works for that."
Whatever. It also persuades some people to donate.
Regarding his Rollerblades he said he loves the exercise, and the freedom of skating in Central Park.
"Sometime people get kick out of monks with Rollerblade," he said in his stilted English. "That's fine, I like it."
The monk's Web site advertises his CDs and appearances around the city. The latest CD is Christmas-themed, with Japanese versions of "Jingle Bells," "Rudolph, the Red-Nosed Reindeer," and "We Wish You A Merry Christmas (Sutra Chanting Version)" There is a schedule of coming performances: In the subway at Times Square and Union Square.
On Sunday, an artist named Charles Basman was headed into the museum to do some sketching. He saw Mr. Yamada and stopped to meet him and soon was arranging to hire him as a model for a painting.
"As an artist I just want to paint something calming," he explained as three young women posed for a photograph with the smiling monk. "He happened to be here, I happened to be here."