Dalai Lama might be the area's hottest ticket
By Michael Duck and Olivier Lewis, The Morning Call, March 2, 2008
Bethlehem, Pennsylvania (USA) -- The Dalai Lama's first-ever visit to the Lehigh Valley this July has taken years to plan, but tickets to see the exiled Tibetan leader and Nobel laureate might sell out in just a few minutes Monday morning.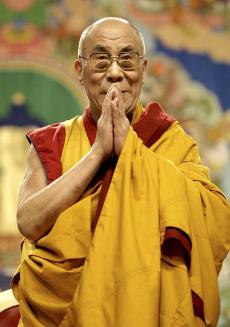 << The Dalai Lama: Coming to Lehigh University in July
The online ticket sale will start at 10 a.m. through the event's host, Lehigh University, where interest across all age groups has been building for months. The spiritual leader's rock-star-like appeal has created so much demand that presale tickets for students and faculty sold out in just 35 minutes Tuesday.
''His Holiness the Dalai Lama is one of the spiritual leaders of the world today,'' said the Rev. Lloyd Steffen, Lehigh's chaplain, calling the visit a ''historic'' moment for the university.
Steffen, like other officials at the Bethlehem university, said he expects the tickets to ''sell out very quickly.''
The Dalai Lama will offer a two-hour public lecture on ''Generating a Good Heart'' to 5,100 people in Lehigh's Stabler Arena on July 13. During the talk, he'll respond to 12 questions submitted in advance by visitors to Lehigh's Web site.
The 5,100 tickets include a ''limited number'' sold in Tuesday morning's presale. Lehigh sophomore Inneke Carmola was one of the few who got tickets Tuesday for the lecture, which she described as a ''once-in-a-lifetime thing.'' After learning about the presale in a university e-mail, she went online and snapped up four $30 tickets for herself and her family, who will drive from upstate New York to attend.
Though she's not familiar with the Dalai Lama's teachings, ''I obviously know he is very famous, a great religious leader,'' Carmola said. ''I am hoping to learn more.''
Ruler at 15
Tenzin Gyatso, the 14th Dalai Lama, has been the spiritual head of Tibetan Buddhism since 1950, when he was named Tibet's ruler at age 15, less than a year before China invaded the country. In addition to pushing for Tibetan autonomy, the Dalai Lama is one of the world's foremost Buddhist scholars and an internationally recognized advocate of nonviolence.
He won the Nobel Peace Prize in 1989 and routinely attracts crowds of thousands. In 2005, he addressed 36,000 people in Rutgers Stadium in New Jersey.
''He's had such hardship and tragedy in his life, [but] whenever you see him, he's smiling,'' said Joshua W.C. Cutler, head of the Tibetan Buddhist Learning Center in Warren County, N.J. ''He maintains such a positive optimistic outlook, I think people have to go, 'Oh wow, what's going on here?'''
That's a big part of the 72-year-old Dalai Lama's draw, Steffen added. ''I think he's very much concerned in human happiness -- and who's not interested in that?''
In addition to the two-hour public talk, the Dalai Lama will give a 51/2-day lecture from July 10-15 at Lehigh on a 600-year-old Tibetan Buddhist text titled ''The Great Treatise on the Stages of the Path To Enlightenment.''
That talk, sponsored by Cutler's center, will be one of the Dalai Lama's longest-ever lectures in the United States. As of Saturday, tickets costing $300 and up were still available for the multiday talk.
Cutler, whose center in Washington, N.J., hosted the Dalai Lama on visits in 1979 and 1998, has spent the last 12 years translating ''The Great Treatise'' into English. In 1999, during a personal audience with the Dalai Lama in India, Cutler presented him with the first volume of the translation and invited him to visit the center.
''He said, 'Oh, if you're [translating] this, why don't I teach on it?''' Cutler recalled. But Cutler then needed five more years to finish the translation.
Cutler learned in 2006 that the Dalai Lama would arrive this year. Knowing the visit would draw thousands of attendees, more than Cutler's center could handle, he called Lehigh and asked if a venue like Stabler Arena might be available.
''I was delighted -- it's an incredible opportunity,'' said university President Alice Gast, who learned about the upcoming visit soon after taking office in August 2006. Gast had been a vice president at the Massachusetts Institute of Technology when the Dalai Lama visited that institution in 2003.
''He's very interested in the way the world works, and he's very curious about the very complex forefront areas of science, like quantum mechanics and neuroscience,'' said Gast, whose background is in chemical engineering. ''I just found it inspiring that he shared his thinking process and his exploration, and I think it's something we could all strive to do.''
To prepare for the Lehigh visit, Gast joined freshmen like Ashley Sciora in reading ''Freedom in Exile,'' the Dalai Lama's autobiography. The book was part of this year's freshman orientation, and Sciora said she was glad for the chance to focus on the Dalai Lama's work.
'I mean, the whole point of why we are here is to broaden our horizons and learn about different stuff,'' said Sciora, who lives an hour away from Lehigh in central New Jersey.
As of last week, Sciora hadn't decided if she would buy tickets for the July 13 lecture.
Timing isn't perfect
Others are upset the Dalai Lama is coming over the summer, when most students will be away from campus.
''If the university is going to all this trouble to sponsor the event,?I do not understand why the actual event is when no one is going to be here,'' said senior Sean D. McKeever, who lives a half-hour away in Phillipsburg.
Steffen agreed the timing isn't perfect. ''If I were doing this in an ideal world, we would not be doing this in July,'' he said, but this was the only time when the Dalai Lama would be available.
''We're just trying to show some gratitude for having the opportunity to participate in this event,'' Steffen said.
Lehigh will present the Dalai Lama with an honorary degree but is not offering him a stipend, Steffen said. Money from ticket sales will pay for security, transportation and other logistics, and any profits will be donated to charity, Steffen said.
Steffen and other faculty members also have scheduled dozens of lectures and other events in the year leading up to the visit. University dining halls have served Tibetan food at lunch once a month, and in October, Tibetan Buddhist monks created a painstakingly detailed design called a mandala in Linderman Library using colored sand.
''His visit has opened up the whole window of knowledge and understanding of Tibetan culture and Tibetan Buddhism,'' Gast said, ''and I think that's been a tremendous gift even before he's gotten here.''