Colgate prepares for Dalai Lama
By JENNIFER FUSCO, Observer-Dispatch, Apr 3, 2008
Utica, NY (USA) -- The Dalai Lama will speak April 22 as part of Colgate University's Global Leaders Lecture Series sponsored by the Colgate Parents Fund. The Observer-Dispatch recently interviewed Colgate University President Rebecca Chopp about the lecture.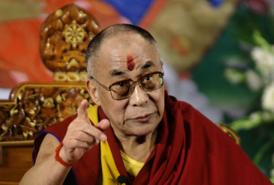 << Tibetan spiritual leader the Dalai Lama addresses a press conference, in New Delhi, India, Saturday, March 29, 2008. The red mark on his forehead is vermicelli. The Dalai Lama will speak April 22 as part of Colgate University's Global Leaders Lecture Series sponsored by the Colgate Parents Fund.Photo by Manish Swarup, The Associated Press, April 3, 2008
The Dalai Lama has spent the last half-century as an international political leader, advocating for freedom of the people of Tibet, opposing violence and calling for respect of human rights worldwide. Why is this visit important for students, faculty and staff at Colgate, as well as area residents?
The Dalai Lama's visit addresses several aspects of Colgate's core curriculum, through which our students engage in an interdisciplinary approach to the world's cultures and teachings. And of course, there's a heightened interest in his holiness right now.
The Dalia Lama's "middle path" approach to peace, which rejects violence and embraces peaceful resolution through dialogue, is not only important for world peace, but for our daily lives.
The visit also builds on a longstanding interest in Tibet on our campus. We've seen record interest in our core course on Tibet, which is taught by Vic Mansfield, professor of physics and astronomy. The Dalai Lama wrote the introduction to Vic's latest book, "Tibetan Buddhism and Modern Physics: Toward a Union of Love and Knowledge," and Vic arranged for his students to hear the Dalai Lama speak at the University of Buffalo and Ithaca College in 2006 and 2007.
There's also a lot of interest in Tibet and Buddhism across our campus. This year, students started a Colgate chapter of Students for a Free Tibet. Last year, two student leaders in the Buddhist Student Association successfully proposed that Colgate invite monks from the Namgyal Monastery in Ithaca to create a sand mandala in the new Case Library and Geyer Center for Information Technology. That exhibit was here in November, and drew hundreds of visitors from the community, including local school groups.
How long in advance was this visit planned? Is there a chance the Dalai Lama may not come because of the recent reports of unrest?
Colgate alumnus Robert H. N. Ho, who has a longstanding relationship with his holiness, arranged for me to meet with the Dalai Lama in September 2006 in Vancouver. I was struck by his message of compassion, kindness, and mutual understanding — topics which have particular relevance to Colgate as we seek to prepare our students to become leaders who will help solve problems related to major world issues. Mr. Ho provided a helpful overview about Colgate to his holiness who expressed an interest in visiting. I issued the official invitation and we received word in January about the visit on April 22.
As we prepare for the arrival of his holiness, we are in constant contact with his representatives. They assure us that the visit will not be impacted by the unrest.
We have a large refugee population in the region. The Dalai Lama, himself, is a leader in exile. Is the university trying to reach out to a broader audience across the region with the choice of this speaker?
Colgate has made arrangements for the Tibetan monks from Namgyal Monastery in Ithaca, along with representatives of the Tibetan refugee community there, to attend the talk as guests of the university.
Colgate recognizes the importance of the visit as not only a significant event for the university, but the upstate New York community as well. We are working with community groups in the region to accommodate as many people as we physically can.
We have reported that prior to the visit, various programs were going to be held at Colgate on the Dalai Lama, Tibet and Buddhism. What programs have there been, and how does this help the students better familiarize themselves with him and what he stands for?
Representatives from the Buddhist Student Association, the University Libraries, and Students for a Free Tibet have put together a weekly Buddhism and Tibet Film Series. The films range from Hollywood blockbusters to independent documentaries.
What kind of audience are you expecting? Do you expect large numbers of Burmese and Tibetan Monks? How are you prepping for the crowd?
We are expecting a sold-out crowd of nearly 4,900 people, from Tibetan monks and school groups to Colgate students, faculty, staff and alumni.
We have a team of staff members dedicated to planning every detail of the Dalai Lama's visit to Colgate.
For those who are unable to attend the talk, the Dalai Lama's lecture at Colgate will be Web cast at www.colgate.edu.