Oakland Zen group growing
Kennebec Journal & Morning Sentinel, April 28, 2008
Oakland, Maine (USA) -- When Rocio Orantez of Oakland walked in to her first-ever Zen Buddhist meeting, she wasn't exactly impressed.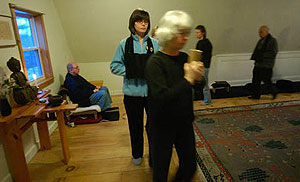 << WALKING MEDITATION: Jeremie DayGlider of Hampden, center, is lead by Deborah Kelley of Levant, right, in a session of walking meditation called kinhin at Treetop Zen Center in Oakland on Wednesday night.
"I thought everybody was crazy," she said, of the meditation group, which at the time met in Orono.
"The topic of conversation was the calendar for the next year. Everything was done by consensus," she said.
Although only a visitor, Orantez was invited to consult about the calendar. As she took part, she caught the drift of something deeper than events schedules. Heading up the center were Zen teachers and priests Stefano Mui and Margaret Ne-Eka Barragato.
"They were completely open. It was like being part of an intimate conversation," said Orantez, 24, a part-time tutor at Thomas College in Waterville.
That was a year ago. Today, Orantez studies Zen Buddhism with the Barragatos, who have dedicated their lives to teaching.
Her teachers have since moved to a modern log home in Oakland, set behind a stand of white pines on Old Country Club Road. The Barragatos' home is also the site of Treetop Zen Center.
Orantez is not a newcomer to Buddhist meditation. A 2007 graduate of Colby College in Waterville, she had traveled to Sri Lanka and took part in Vipassana, a form of Buddhist meditation.
Later, Colby College English professor Peter Harris of Waterville told her about his Zen studies with the Barragatos.
"They are certified Zen teachers. 'Certified' sounds funny in connection with Zen, but it means they have full transmission from a Zen master, both for teaching and priestly activities. They are themselves Zen masters. There aren't that many in the U.S. so, for me at least, it's a big deal," Harris said.
One of the core Zen practices at Treetop is "zazen," or sitting meditation.
"We're pretty informal about it," said Stef Barragato, 78, a warmly humorous man with dark brown eyes. "Whoever comes is a member. Whoever is present is on board."
Everyone meditates together in the "zendo," or meditation hall, set in a large, finished room above the home's attached garage.
Students remove their shoes before entering. Rows of black pillows and cushions along the walls are for sitting zazen. A statue representation of the Buddha is set at one end.
The first practice of zazen students is breath counting.
"You pay attention to your breathing and count on the out breath, from one to 10, and then go back to one. If you lose track, you go back to one. It's a powerful practice for calming the mind," he said.
Zazen is about letting go and dropping your ego, he said.
Orantez appreciates the group setting.
"It's much more dynamic sitting with a group of people. That doesn't exist when you sit (meditate) on your own, when you get the feeling you can't make it another minute," she said.
Zazen is broken into 20-minute sessions, followed by a five-minute walking meditation called "kinhin."
"Then, you go back and sit," she said. The entire session lasts about 1 1/2 hours, with a group talk and discussion at the end.
Among the dozen or so students at Treetop is Peter Wohl, a substance-abuse counselor at Crisis and Counseling Centers in Augusta. In a few weeks, he will receive "den-kai" or full-priest ordination from the Barragatos.
"It's part of being able to endure," Wohl said, of how Zen meditation helps him deal with work-related stress. "This practice helps."
Another key part of the experience is "daisan," a formal, one-to-one interview between a teacher and student that follows meditation, said the Barragatos.
Margaret Barragato, a retired physician's assistant, was taught Zen and ordained by her husband. The Barragatos have been married 29 years.