Miller St. building to become monastery
By CHINKI SINHA, Observer-Dispatch, May 4, 2008
Utica, NY (USA) -- If the design plan on the wall of a nondescript building on Kemble Street is any indication, the city soon will have a Buddhist monastery and a temple, complete with pagodas.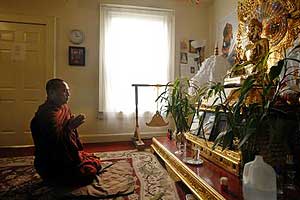 << HEATHER AINSWORTH / Observer-Dispatch
Burmese Buddhist monk Ashin Pyinnyar Nanda does his daily meditation in front of a giant Buddha shrine at the Santisukha Vihara Buddhist Monastery on Kemble Street in Utica Tuesday, April 29, 2008. The monastery plans to relocate to Miller Street.
After years of looking at sites around the city, the Burmese Buddhist community last month bought an apartment building on Miller Street that it plans to convert to a monastery and a meditation center.
The five-unit house at 1005 Miller St. once served as a homeless housing project of Utica Community Action Inc. It was sold to GroWest, a neighborhood development agency, in 2005 for about $3,300, according to Oneida County records. GroWest confirmed the sale of the building to the Burmese community.
For about five years, Monk Ashin Pyinnyar Nanda, who came to Utica in 2003, dreamed of building a monastery. The community that totals about 60 families in the city has taken its first step toward fulfilling Nanda's vision.
It was born out of need. The Burmese Buddhist population in Utica has grown over the years, and the small living room that houses the Buddha was too small. On festival days, the celebrations would have to move to the backyard, where a tent is erected, Nanda said.
"It's small, it's inconvenient," he said through translator Aung Soe.
Nanda's vision includes a golden pagoda, a meditation center and a Sunday school to teach children the tradition and language of their homeland, Nanda said.
"They have to respect American culture but also teach Buddhism," he said. "But we need to live by our own rules and culture."
For two years, Tanya Nicholas has lived across from the current temple on Kemble Street, which relocated from its Stark Street site around the same time. But Nicholas had no idea there was a temple within the red wooden fence. Oftentimes, she saw monks sitting on the steps of the house, but they always were "very quiet." she said.
"They kind of mind their own business," she said. "They don't cause any problems. They are not loud. They are here and might as well have a place to worship. And everybody deserves it."
Next steps
The Miller Street building will need cosmetic work, GroWest Executive Director John Denelsbeck said.
GroWest acted as property manager for the multi-use facility and helped the state to sell it, Denelsbeck said.
Now, the Burmese Buddhist community will have to go through the city's codes department to get the necessary approvals for changing the usage of the building, Denelsbeck said.
But the community is taking it step by step, Nanda said.
Everything is planned. A timeline and estimated cost for improvements are jotted in neat handwriting on a huge white sheet, which Nanda constantly refers to as he talks about the project.
Growing community
For years since they first arrived in Utica through the Mohawk Valley Resource Center for Refugees, the Burmese Buddhist community worshipped and observed religious holidays at the monk's residence.
In 2003 when Nanda first arrived, it was in a small apartment on Eagle Street where he established the first Burmese temple. From there, Nanda moved to a house on Stark Street that he was able to buy with money he saved through donations the Burmese Buddhist community made toward the upkeep of the temple and the monks.
At the time, Nanda was the only monk in the city. It had been a conscious choice for the 43-year-old who faced an uphill task in mobilizing the community and establishing a place of worship for the refugees.
"They did not have any idea," he said. "If I don't do it, nobody will."
At that time, there were about five Burmese families that were Buddhists, Nanda said.
But soon, the numbers began to swell.
And so, Nanda took on the challenge. He met with people, drew up plans, looked at sites, even bought and sold the property. With Stark Street, Nanda made a profit, which he invested in purchasing the single-story house on Kemble Street.
But now, it's time to move on, he said.
Nanda is patient. As he sat quietly, unfazed by the loud hip-hop music and cars blaring their horns at a busy intersection in Cornhill, he already is thinking ahead.
Next on the agenda is the sale of the Kemble Street location. In a dismal housing market, Nanda said he is not expecting to make a profit but hopes to break even so he can fund some of the improvements at the Miller Street site.