Dancing, smiles, unity at 63rd Obon Fest
By CODY GLENN, The Daily Journal, July 28, 2008
UPPER DEERFIELD, NJ (USA) -- Late in the evening, the lines between performers and onlookers vanished at the 63rd annual Obon Memorial Folk Dance Festival as the always-popular audience participation dance got under way.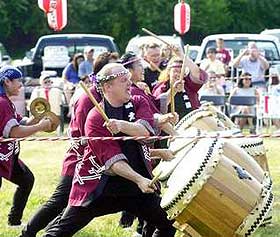 << Members of the Hoh Daiko drum troupe perform on their drums during the festival
More than 300 audience members, wearing T-shirts and shorts, left the safety of their lawn chairs Saturday evening to join performers in flowing yakutas, or summer kimonos, on the matted-down grass and dance as one.
"At least for one day everyone comes together and smiles," said Seabrook Buddhist Temple Assistant Minister Linda Shinchi Engstrom. "The energy is different out here for the entire day. It's hard to put into words."
Obon is a time to give thanks to generations past while remaining focused on the present.
"We're here to express gratitude to our ancestors," Engstrom said. "I don't know all the people who built this temple, but because they did, I can attend and lead services now."
For 62-year-old Shizu Grieve, the annual festival on the Seabrook Buddhist Temple grounds was a coming of age of sorts.
"I've been coming since I was 3 or 4," Grieve said. "It has changed a lot. There used to be a much larger Japanese community, but as they grew, a lot go wherever a job will take them."
Like many in her generation, Grieve grew up in Seabrook moving to Delaware for work, but said she never forgets her roots in the hamlet. On Saturday, she rejoined the Seabrook-based Hoh Daiko drumming troupe, keeping some of the younger members energized and in time.
"It feels great to be out there," Grieve said. "There are some nerves, but once you start playing it all goes away. We stay traditional, but also incorporate some of the Japanese-American songs, too."
The event also included the nationally recognized Soh Daiko drummers from New York City and Nen Daiko, based out of Washington, D.C.
"The drumming is number one," said Engstrom. "We have incredible drummers."
Engstrom could be found inside the temple, leading a lecture on Buddhism alongside the Rev. Naoki Kono, or hopping in on the large traditional group folk dance.
"People want to hear a little bit about Buddhism," Engstrom said. "It's a simple way to live your life. Buddhism speaks to my heart -- it makes sense. I hope people come away with the desire to come back and learn more."
As a transition between the lively evening performances, attendees could steal away to the temple's meditation garden and take a moment to reflect.
There, Chris Brunner of Hoboken, who came on a bus with members of the New York Buddhist Church, enjoyed the tranquil setting around the fish pond before he joined in the group folk dance.
"I try to catch as many Japanese festivals as possible," Brunner said. "These occasions are always twofold: the serious and joyful. It's mainly about having fun, but behind that there are the Buddhist observances."
Also in the meditation garden, a younger generation of Japanese performers -- 14-year-old Danielle Pierce and friends from Deerfield with the Seabrook Minyo Dancers -- spent time relaxing before the big show.
"Since I was born, I've been coming," Pierce said. "It's lively and bright. I'm just excited to dance."