Explorations in the good life
by David Greenberg, The Buddhist Channel, Oct 31, 2008
"When you meet Lama Marut, you encounter greatness, a place where the heart and mind are one, and the company you keep presents a rare presence that can change your life." - DOUGLAS BROOKS, spiritual voice of Anusara Yoga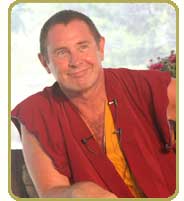 ROCKPORT, MA (USA) -- Buddhist monk, Venerable Lama Sumati Marut returns to Cape Ann in November with EXPLORATIONS IN THE GOOD LIFE, a new series of three different teachings all exploring the journey away from pain and towards a happy life.
Venerable Marut's personal understanding of our modern western lifestyle unites with his extensive scriptural knowledge of authentic South Asian traditions to create spiritual teachings uniquely relevant to Americans. An ex-Venice Beach surfer, professor emeritus of Religious Studies at UC Riverside, and child of the Fifties Lama Marut pulls in American cultural signposts, pop references, and humor, to help remove cross-cultural hurdles and make even the most esoteric elements of eastern philosophy work as tools for immediate transformation.
The first series of teachings, EXPLORATIONS INTO EMPTINESS will take place Wednesday November, 12th and Thursday November, 13th, from 7:30-9:30PM at The Essex Room, 127 Main Street in Essex, MA. The quintessence of Mahayana Buddhist philosophy is offered in these talks focused on the texts of "the second Buddha", Arya Nagarjuna. These talks answer the question, "How are things really working in this world?"
The second series, HOW TO LIVE A GOOD LIFE, THE THREE YOGAS OF THE BHAGAVAD GITA, will take place on subsequent evenings of Friday, November 14th to Sunday, November 16th, 7:30-9:30PM at The Essex Room, 127 Main Street in Essex, MA.. These teachings illuminate one of the seminal classic texts of yoga and of world religions in general. Focusing on disciplined action (karma yoga), wisdom (jnyana yoga), and devotion (bhakti yoga), these talks discuss the true purpose of yoga and the path to bliss.
These evening teachings are presented by ACI-Cape Ann and are open to all by donation only.
An intensive review of ACI FORMAL STUDY REVIEW COURSE XVIII (EIGHTEEN) is the third series of teachings and will be held Wednesday, Nov. 12 to Sunday, Nov. 16,12:00 pm to 5:30 pm, at ACI-Cape Ann's Vajramudra Center 154 Granite St. Rockport MA. This is the last course of The Great Ideas of Buddhism compiled by the Asian Classics Institute. It delves deeper into emptiness and compassion, all from the original ancient sources: A Guide to the Bodhisattva's Way of Life, parts two and three; The Art of Reasoning; Lojong, Developing the Good Heart; and What the Buddha Really Meant.
This course is open to all by donation and course materials fee. Anyone interested in taking this ACI Formal Study Course, are asked to pre-register by emailing Judith: swetelife@magga.com or by calling 978-865-4342.
Over four years ago, Lama Marut was first asked by one of his students, the acclaimed actress Lindsay Crouse, to give teachings at a Summer retreat held at Windhover in Pigeon Cove, MA. Since then, Lama Marut has always looked foward to return to teach on Cape Ann, not only at the annual Windhover retreats, but also at Rockport High School, Rockport's Unitarian Universalist Church and Community Center, and at the new Vajramudra Center in Pigeon Cove.
"There's something magical about Cape Ann," Lama Marut has noted. "The audiences are wonderful, receptive, and so grateful. Every time I return back to my students at Diamond Mountain University, my teacher, Geshe Michael Roach, has to ask how it went. I could have been most anywhere else in the world as well during my trip, but instead, he is interested about my teachings here. He knows somethings up, something very special."
For More Information Visit: www.lamamarut.org
Lama Marut's Podcast's can be found at: www.aci-la.org/mg-podcasts.html