A Place to Mellow Out, Without Losing Your Edge
By CARA BUCKLEY, The New York Times, December 12, 2008
New York, USA -- Punk is not dead, though these days on the Bowery it's a whole lot quieter. Silent, even. Every week, dozens of people, usually young and artfully scruffy, climb three creaky flights of stairs off this formerly gritty stretch of downtown Manhattan, a block from where CBGB, the hallowed hall of punk, once stood.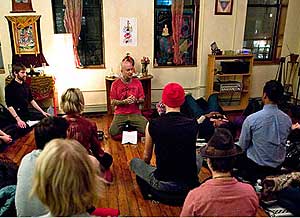 << Josh Korda leads meditation at The Dharma Punx, a buddhist meditation group that takes place at a studio on the Bowery every week - Katie Orlinsky
Often shrouded in hoodies, inked with tattoos and studded with piercings, they look primed for a serious rock show, and perhaps a few related vices. But in a softly lighted loft, in earshot of the traffic's roar, they instead find a spot on the floor, close their eyes and take long, deep breaths.
Called Dharma Punx, the gathering is part of a nationwide Buddhism-based meditation network that is part Sid Vicious and part Dalai Lama.
"O.K., tonight's class is about how to forgive impossible-to-forgive people," Josh Korda, the leader of the New York City group, said at a recent session. "So this is good in case you've been angry at anyone ever in your life. If you haven't, just listen in."
Perched on a ledge behind Mr. Korda, who was kneeling at the front, was a small white statue of a seated Buddha — with a mohawk. It is a curious combination; punk is typically seen as an expression of aggression, whereas Buddhism espouses compassion. But Mr. Korda and his friend Noah Levine, who started Dharma Punx, say both movements are rooted in dissatisfaction with the way things are, a desire to live in the present and a thirst for peace of mind.
Mr. Korda, who is 48 and tattooed from his knuckles to his jawbone, began leading the Dharma Punx gatherings three years ago. The Tuesday and Thursday evening classes, which are open to anyone and financed by donations, start with a guided meditation, followed by a talk, then questions and answers. Participants are typically in their 20s and 30s, on the young side compared with many meditation groups.
Meditation groups also often skew New Age; not so Dharma Punx. Mr. Korda freely uses four-letter words and makes frequent references to his favorite bands, like the Suicidal Tendencies or the Cro-Mags, a seminal hard-core group. Dharma Punx regulars like the fusion of grit and Zen, and they appreciate that there is no preaching, no proselytizing, no chanting and no mention of dogma.
"I can't stand meditation classes where they charge you $10 to walk in the door — plus, I don't like candles," said Harper Jackson, who works for an auction house and lives on the Lower East Side. The sessions, he said, have "no drama, and I can pay what I want."
Cliff Rawson, a 33-year-old musician from Fort Greene, Brooklyn, said he likes it because "it's rational and scientific and easy to swallow."
"There is this allergy to anything that is religious or culty out there in my demographic and age group," he said. "This is a nice antidote to that."
Dharma Punx began with Mr. Levine, 37, whose 2003 book, also called "Dharma Punx," chronicled his recovery from heroin, crack and alcohol addiction through Buddhist meditation. Mr. Levine's father meditated, but Mr. Levine did not begin practicing until he was 17, when he was in a juvenile detention center in California for stealing to support his drug habit.
"Even though I was in jail, it was better than the fear that the future held, or the chains that the past held," said Mr. Levine, who lives in Los Angeles, where he runs a Buddhist meditation center called Against the Stream. "That mindfulness was a release."
He began leading meditation groups in his living room, then in jails, then in studios in Santa Cruz, Calif., and San Francisco. He adopted the motto "Meditate and Destroy" — meaning to banish dark thoughts — which is also the title of a recent documentary about his life and work. In 2003, he started giving classes in New York; more recently, Dharma Punx groups have sprung up Connecticut, Philadelphia, Seattle, Canada and Hawaii.
If the style of the sessions is distinct from that of most meditation groups, the core tenets of Buddhism are still explored, starting with the premise that happiness comes from within and is not contingent on acquiring material goods or wealth or reaching career highs. Mr. Korda also devotes time to telling people how, in his words, to "work with thoughts that cause suffering, and change them into thoughts and actions that don't cause suffering."
Many people said the class is an escape from the chronic competitiveness that New York sows. Lexi Salkin, a 26-year-old hairdresser and artist who lives in Crown Heights, Brooklyn, said she was intrigued by Mr. Korda's message that there is "not a finite amount of joy in the world."
"That if someone else is doing well it doesn't mean that you're doing worse, that it doesn't mean that something is being taken away from you," she said.
Mr. Korda estimated that about one-third of his regulars are recovering addicts who are looking for nontheistic but spiritual ways to deal with their demons.
"The trouble with organized religion is that I felt I could never live up to it," said one former drug addict, a New Jersey carpenter named Doug, who spoke on the condition that his last name not be published. "I can live up to this."