Late Cambodian monk's poems detail homeland terror
By RUSSELL CONTRERAS, AP, March 13, 2009
LOWELL, Mass. (USA) -- For years, Ly Van Aggadipo served as the spiritual mentor to many Cambodian refugees in this old mill city, guiding followers at the Glory Buddhist Temple through family issues, work problems and recurring nightmares from the horrors of the Khmer Rouge.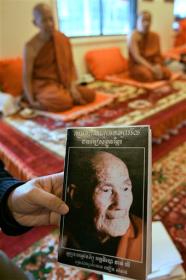 << Samkhann Khoeun, of Lowell, Mass., holds a Khmer language manuscript of poetry by the Buddhist monk Ly Van Aggadipo, that features his photo on the cover, at the Glory Temple, in Lowell, Nov. 20, 2008. Ly Van's internal struggles from his experiences under the Khmer Rouge remained a mystery until some of his followers found a collection of his poetry left behind in his quarters at the temple. Buddhist monks Bo Chhuom, 75, behind left, and Voeun Vann, 35, behind right, look on. (AP Photo/Steven Senne)
But his own internal struggles from the Khmer Rouge remained a mystery, and those who knew him say he rarely spoke of his own story of fleeing war-torn Cambodia.
Then, soon after his death last year, friends found a collection of the monk's poetry tucked under stacks of old Buddhist texts. On worn pages were handwritten, carefully crafted poems describing his memories of witnessing infant executions, starvation at labor camps and dreams of escaping to America.
Now followers are seeking to publish the poetry, even as the discovery of this vivid historical record of the atrocities has reopened for many a painful time they still have not reconciled in their own lives.
"It put us in tears again," said Samkhann Khoeun, 45, who studied under Ly Van. "We couldn't believe it. When I read (the work), it was so vivid. It refreshed the memory."
Everyone knew the basics of Ly Van's life, Khoeun said. "But we didn't know the details and no one ever asked. He was so busy helping us," Khoeun said.
Born in 1917 in a small Cambodian village, Ly Van and his family lived through the Khmer Rouge regime of the 1970s, which perpetrated one of the worst mass genocides of the 20th century. An estimated 1.7 million people died from starvation, disease and executions due to the radical policies of the communist group. According to the temple's biography of Ly Van, he was forced to work on agricultural and public projects for 14 hours a day. It was during this time that the monk witnessed mass executions and large-scale starvation.
In early 1979 when Vietnamese soldiers invaded Cambodia, Ly Van and thousands of others fled to Thailand through dangerous terrain and later ended up in Lowell, a community second only to Long Beach, Calif., for the largest number of Cambodian residents living in the United States.
While in Lowell, Ly Van helped establish the Cambodian Mutual Assistance Association and was invited to lead the Glory Buddhist Temple in 1988, a position he held until his death in January 2008.
Khoeun and others found the manuscript just days after Ly Van's body was cremated.
In one translated verse, Ly Van writes about how he and other refugees fled to Thailand by traveling through a treacherous mountain range packed with thieves and land mines. It was a well-known trek where Thai soldiers pushed refugees over cliffs at gunpoint while refugees tumbled over each other trying to escape.
"Surrounded by corpses as we walked, slept and ate; an unbearably foul smell/Emanated from the swollen, rotten bodies, most of which were missing limbs and heads."
Ly Van also writes of the conditions of a refugee camp in Thailand where women were constantly raped, men were frequently beaten and families combatted filthy living facilities.
"...we had to sleep on the bare concrete floor, like animals/Dirty water and stench-filled raw sewage floated everywhere/We were swarmed by mosquitoes constantly, resulting in rashes all over our bodies."
Kowith Kret, whose parents were executed during the Khmer Rouge, said it was hard to read the monk's account because it brought back the past. "But it is the fact," said Kret, who also studied under Ly Van. "People have to accept the experience they've been through."
George Chigas, a political science professor at UMass-Lowell who has seen copies of the poems, said the monk wrote in a rare 11-syllable meter style that is more than 1,000 years old in Cambodian literature. "It showed great devotion to cultural tradition and, at the same time, tries to preserve something that had been lost," Chigas said.
That's important, Chigas said, especially since the Khmer Rouge regime burned old texts and killed scores of writers and artists.
He compared Ly Van's writing to Loung Ung's memoir, "First They Killed My Father: A Daughter of Cambodia Remembers," as an act of "trying to put old demons to rest."
Today, an estimated 20,000 Cambodian Americans live in greater Lowell.
So far more than half of Ly Van's poems have been translated from Khmer to English, Khoeun said. Members of the Glory Buddhist Temple are selling a CD of Ly Van's work read in Khmer and expect the rest of the manuscript to be translated by the end of the year. They also are aiming to raise $40,000 to get 5,000 bilingual copies published by April 2010.
So far, two publishers in Cambodia have expressed interest and the group still is searching for a U.S. publisher.
After reading the poems, Khoeun said, he and other refugees have more questions for Ly Van. Questions, such as, when did he have time to write? What was life like in a refugee camp right before coming to America? And how many late relatives of the refugees did Ly Van know?
"He knew my grandfather who died right when I was born. I never asked him about that," Khoeun said. "I guess I always took him for granted."