Dalai Lama offers message of wisdom, optimism in Albany
By PAUL GRONDAHL, ALBANY TIMES UNION, May 7, 2009
ALBANY, N.Y. (USA) -- With a rock star's aura and a guru's mystique, the Dalai Lama captivated New York state's capital city Wednesday, offering a simple message of tolerance, peace and happiness with an impish grin, a deep chortle and playful exchanges.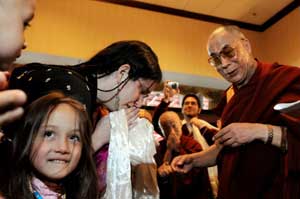 << The Dalai Lama is greeted by members of the Padmasambhaua Buddhist Center in Oneonta on Wednesday, May 6, at the Crowne Plaza in Albany. (Cindy Schultz / Times Union)
His underlying theme seemed borrowed from a hit song of an earlier decade: Don't worry, be happy.
At a news conference in the Crowne Plaza before his talk at the Palace Theatre, the exiled Tibetan Buddhist spiritual leader delivered gentle wisdom whether he was asked about the global economic crisis or climate change.
"Those are man-made problems, and logically, human beings have the ability to work out those problems. We can recover from this economic crisis," he said.
"When human nature is aggressive and destructive, you get the impression our future is doomed. That is a mistake," he said, making direct eye contact with each questioner and speaking in a deep voice in English. He only rarely conferred with a Tibetan translator at his side.
"Pay more attention to inner values," he said. "Money alone is not sufficient. Those people whose only concern is money get much more disturbances when the global economy collapsed. People with a happy family and a happy community get less disturbances."
The Dalai Lama downplayed his role as a renowned spiritual guide to devotees and Buddhists the world over.
"I consider myself just a human being, one of 6 billion human beings," he said. "We must find more nonviolent ways to solve our problems. War and nuclear weapons never solved human problems."
He invoked Mahatma Gandhi, Martin Luther King, Nelson Mandela and Bishop Desmond Tutu, all of whose teachings he said he admired. He talked about his respect for religions other than Buddhism, and that he often visits religious shrines around the world and is touched by them.
"All 6 billion people are the same family," he said. "Everyone wants a happy life."
He sidestepped a question about his appearance in Albany, which was sponsored by the controversial group NXIVM, which some have labeled a cult.
"I had an invitation, so I accepted," he said.
He apologized to the reporters for being five minutes late. "Sorry," he said, noting he was delayed because he ate lunch, which was delivered from Sushi Thai in Clifton Park.
The Dalai Lama entered the Crowne Plaza at 11:35 a.m. after visiting the Capitol this morning, pausing to touch the people who came to see him.
He arrived at the hotel at about 11:35 a.m. and greeted a small group of Tibetans and local Buddhists. They bowed and held white silk shawls in their hands in a show of reverence. He paused to touch the head of the burgundy-robed monks and to shake the hands of other well-wishers.
Vicki Schacter of Guilderland gave him a copy of her book, "Lessons from My Father and the Dalai Lama." He paused to look at a few of the pictures from 1959, when she visited India as a volunteer nurse and the Dalai Lama and his family also were there.
"It was nice that he looked at the pictures and acknowledged me," the 76-year-old woman said.
They were both in their mid-20s the last time they met. Shortly after, the Chinese occupied Tibet and the Dalai Lama went into exile.
On meeting him again almost exactly 50 years later, Schacter said: "That was a wonderful moment. It made it all worthwhile."
Clare Bronfman, one of the organizers of the Dalai Lama's visit, said: "I think it's a wonderful occasion and the whole city is abuzz."
The Dalai Lama's appearance is sponsored by the Ethical Humanitarian Foundation (the World Ethical Foundations Consortium is an EHF initiative).
The EHF's and WEFC's co-founders, Clare Bronfman and her sister, Sara, the Seagram liquor heiresses, are affiliated with NXIVM, a Colonie-based company that conducts personal-growth training courses. Keith Raniere, the EHF's and WEFC's "conceptual founder," is the founder of NXIVM. Raniere was at the Crowne Plaza.
Critics say NXIVM is a cultlike organization that employs psychologically damaging mind-control techniques. Raniere's supporters say those accusations are unfounded. Numerous media accounts in recent years have pointed to the controversy surrounding Raniere and NXIVM.
Sara Bronfman also was at the Crowne Plaza.
"It's amazing," she said of the Dalai Lama's appearance before addressing the controversy.
"It hasn't been difficult but it calls upon me to dig deeper and have more inner strength and resolve," she said. "I know what I am doing is good and the truth will come out in the end. And I believe that is His Holiness' message as well."
As the Dalai Lama's motorcade headed up to the Capitol earlier Wednesday morning and he opened the Senate session, followers -- some from as far away as Alaska and Washington -- prepared to meet him.
"I'm honored to be able to see His Holiness. This is a blessing. His message is a beautiful one, 'Love each other, be kind to each other and be happy,'" said Pema Yanki, a Tibetan who now lives in Niskayuna.
Kunga Tashi, the Chinese liaison officer in the office of Tibet in New York City, said the Dalai Lama recently met with Chinese scholars to discuss the long-standing political conflict between the Chinese occupation of Tibet.
"It was a very wonderful meeting. Afterwards I spoke to the Chinese people and they had good reactions but they are afraid to mention their names and this was the first time they met face to face with His Holiness," he said as he waited for the Dalai Lama to arrive at the Crowne Plaza.