Pets get Buddhist blessing
by Dana Brown, The Hamilton Spectator, October 13, 2009
Animals welcome at Burlington relic tour
Burlington, Vermont (USA) -- Gillian Jakubowski wanted to make her nearly 15-year-old dog's path to death easier.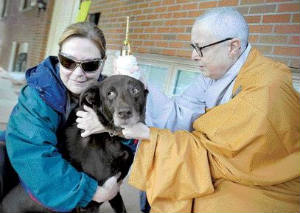 Valerie Cousens wanted to help with her cat Monty's seizures. Kayte Cleary's dog just had surgery on her leg.
All had their pets blessed by a Zen Buddhist nun using sacred relics, during the Maitreya Project Heart Shrine Relic Tour on Saturday.
"It's just the power of the universe," said Cousens, a Hamilton resident.
The pet event was a part of a three-day showing of the rare and ancient relic collection, which was on display for the first time in Halton.
"These relics are all important in the Buddhist faith, in that we've got holy relics of Shakyamuni Buddha, which are 2,500 years old, here," said Dekyi-Lee Oldershaw, executive director of The Centre for Compassion and Wisdom.
"Everything you would call the Buddhist faith started there. So it would be like relics of Jesus."
Oldershaw is currently travelling with the tour as a custodian.
The relics, some of which are more recent and consist of hair, cloth or ash, were on display next door from the centre at Holy Cross Lutheran Church on Lakeshore Road.
The older relics, which appear as small stone or pearllike chips, come from the cremated ashes of masters, Oldershaw said. They carry the power and the blessing, the mind of that master, she said.
Oldershaw likened it to being in a room with "50 Dalai Lamas at one time."
Hundreds attended the event to take in the relics, which were displayed around a large statue of the Buddha on a table in a basement room at the church.
With soft music in the background and blessed water on the table, people were invited to walk around the display, without their shoes, and take in the ornamented sight.
The tour is part of the Maitreya Project, which is raising funds to build a 150-metre tall statue of Maitreya Buddha in northern India. The $250 million US project will include the statue and development of a large radius around it that will have free health care and education.
The relics will be shown from Oct. 23 to 25 at the Tibetan Canadian Cultural Centre, 40 Titan Rd. in Etobicoke.
To obtain more information visit maitreyaproject.com.