Buddhist Meditation Center Donates Food to County Food Bank
by William Dennison, My Central Jersey, September 17, 2010
Burmese Buddhist Meditation Center Donates to Food Banks in Monmouth and Middlesex Counties
New Jersey, USA -- "We know there are hungry people, so we tried to find food for our neighbors who need help." Ms. Hmwe Lee explained that she asked the families who meet at the Buddhist Temple in Manalapan most of whom are from Burma to request food donations from their friends and relatives, so the group could do something to alleviate the shortage of food at emergency food pantries throughout Central Jersey.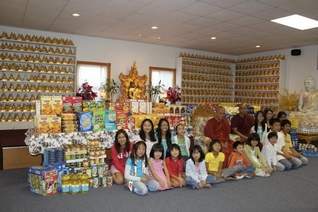 << Children at Burmese Buddhist Meditation Center donate food to help Central Jersey's emergency food providers. (Ricky Aung)
The children spread the word about the food drive, created artwork to get adults' attention and collected donations at the May Buddha's Day Festival held at the Meditation Center. Over $1,000 of food was purchased and distributed to the Food Banks.
The United Way of Central Jersey helped to deliver the many boxes of food to the Middlesex County Food Bank (MCFOODS) from which any non-profit emergency food pantry in the county can get supplies.
Established in 1995, the American Burma Buddhist Association and the Mahasi Satthipathana Meditation Center of New Jersey provide the Buddha's teachings. The chief monk, Sayadaw U Pyinyathiha leads meditation instructions at the Center. Meditation sessions are held three times daily: 5-6 am, 1-2 pm, and 7-8 pm. The Center welcomes all who are interested in learning about meditation Buddhist or non-Buddhist. Please contact: 732 446-1552 or email:
up.thiha@gmail.com
In an effort to help Burmese-American children understand Buddhism and Burmese culture, the Children's Summer Dhamma School was established in 2003 under Sayadaw U Pyinyathiha's leadership. The school begins in April/May and ends in October/November according to the Burmese calendar. Children learn Dhamma literature and practical aspects of meditation, as well as Burmese culture and community work. The program also provides a solid grounding for children to learn the importance of paying proper respect to elders, looking after younger kids, and being kind and gentle to each other. The school is free of charge and classes are led by a group of volunteers.
The Meditation Center, and the community it supports, offers to its neighbors the Buddha's teachings of peace, tolerance and caring for all creatures. By living in a manner that exemplifies these teachings, first adopted more than 2,500 years ago, they hope to have a positive influence on others.
For information on meditation, please call: 732 446-1552 or email: up.thiha@gmail.com
For information on donating food, please call 732 247-3727