World Beating Buddhist Temple Gains Approval in U.S.
Pattaya Daily News, September 30, 2010
Raynham, Massachusetts (USA) -- Plans for a 60-foot-high Theravada Buddhist Temple has gained approval for construction in the small township of Raynham, Massachusetts, according to local media sources.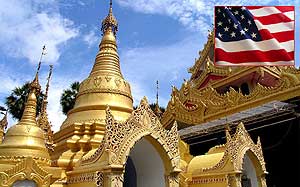 The temple grounds will encompass a 60-foot-high monastery, cultural center, museum and residence for some 16 Thai Buddhist monks living in the area.
Having setup home in a small New England farmhouse for the past four years, a group of Thai Buddhist monks have gained approval from the local Planning Board to construct what will be one of the largest Buddhist temples in the world.
The temple and meditation center will be used for educational and religious purposes, including meditation and chanting services, religious rites, and teaching about Buddhism, Thai culture, and language.
Topped with a 180-foot golden spear the complex will culminate the long-held dream of Boston-area Thai residents to have a place of worship for their religious beliefs and revered King Rama IX, Bhumibol Adulyadej, who was consequently born in nearby Cambridge in 1927.
In spite of recent controversies surrounding Islamic mosques and the spread of Islam in the United States, no objections to the impressive Buddhist structure were heard at the recent planning and approval meeting. Local residents, on the contrary, have voiced their support of the substantial development and the monks that have occupied the site.
"Anyone can come as a guest and observe and enjoy or join us in chanting and prayer. Buddhism is an open religion. We accept everyone in our temple," said Lamiad Wechapak, a local Boston resident of Thai origin.
Proponents of the project have been granted a variance on the townships 40-foot-high building bylaws, with the extended steeple apparently complying with both local and FAA regulations. The building will be tax exempt as a religious facility.
Outside of Thailand, the proposed Wat Nawamintararachutis, will be the largest Buddhist temple in the World. The 109,000 square foot, white structure with five tiered gables will merge Eastern and Western aesthetics, according to proponents of the development.
The 50-acre site of the project will be formally landscaped and preserve existing maple trees and stonewalls with 5-acres being dedicated for the temple construction, which will be completed by 2012. The remaining acreage is under environmental protection.
Two major events a year, in the spring and fall, and another nine or 10 celebrations throughout the year, are expected to draw between 300 and 700 people but the attendance will be staggered.