Medford Buddhist nun named Go Teacher of the Year
By Jesse Kawa, Medford Transcript, Nov 18, 2010
Medford, MA (USA) -- Go might be played by 40 million people around the world, but it isn't incredibly well known in Medford. And yet, there are several places in the city that regularly host groups of players.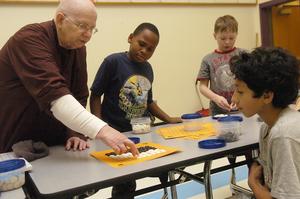 << Wicked Local Photo by Ian Hurley
American Go Foundation (AGF) Teacher of the Year Marjorie 'So Co' Hey of Medford instructs Roberts Elementary School students Nick Cornay, left, Andrew MacDonald and Raphael Medeiros in the rules and strategy of the game Go.
Medford resident Marjorie Hey, 69, is not only an avid member of all of these groups, but is also the groups' teacher. She has been teaching the game for seven years and was recently named the American Go Foundation's Teacher of the Year, an honor she was thrilled to receive.
When Hey, who has been playing Go for more than 20 years, found out she'd been named Teacher of the Year she immediately began thinking about her trip to the United States Go Congress, part of her prize for winning the award.
Hey said since she was a runner up for the award last year, she figured she had a pretty good shot of winning this year.
"It was wonderful," she said of her trip to the Go Congress. "My head got bigger and bigger."
The American Go Foundation established the Teacher of the Year award to encourage and recognize the many people who are actively engaged in teaching Go to beginners.
To be eligible, a teacher must be a member of the American Go Association, have been teaching Go to children for at least two hours a week for two years, have started a Go club or organization for children and have helped them enter appropriate tournaments, if possible.
Hey is also an ordained Buddhist nun and often goes by the name Su Co, which means "monk girl" in Vietnamese.
While she can't put her finger on why she loves the game so much, Hey said it's the fundamentals of Go she enjoys most. She said not only do players greet each other at the beginning of the game, but also thank one another when the game is over,
Hey also noted the fact the objective of Go is to only beat your opponent by a few points, which in turn discourages greed.
"Go teaches us to do our best, treat our opponents with respect and to avoid being greedy, the surest way to loose," she added.
Hey admits she isn't a very strong player, but said that doesn't bother her. She plays because she loves the game.
"I'm not very good, but that's OK," added Hey.
The love for the game began 21 years ago when Hey was living in California. She went to an expo and happened to strike up a conversation with a professional Go player, who gave her software that allowed her to play on her computer at home.
Hey later started playing with a neighbor as well.
"I've just loved the game ever since," she said. "It's a pleasure to play."
Hey now teaches multiple times per week at several locations throughout the city, including the Medford Public Schools, Medford Boys & Girls Club and Medford Public Library. She works with children and adults, both of which she enjoys.
Hey said teaching Go to children in particular is great because the game teaches them important lessons they can apply outside of the group including respect and politeness.
"It's such a great game for kids," she said. "Kids who play Go tend to be calmer in their regular classes and their calmness gets better."
In fact, Hey had a student with Attention Deficit Disorder (ADD) that had been acting out at school. She said after he started playing Go he really showed improvement in school.
In addition to playing at groups throughout the city, Hey also plays Go online with players from all over the word. She doesn't play every day, but says she has no plans of quitting playing or teaching any time soon.
She also encourages anyone interested in learning more about Go to join the Wednesday evening group at the library.
"It is a nice mixed group of people," Hey said. "It's fun. Fun is good and fun keeps you young."