Louisiana's first Thai Buddhist temple opens in Algiers
by Bruce Nolan, The Times-Piyacune, August 15, 2011
Algiers, Louisiana (USA) -- Accompanied by monks in their saffron robes, and with traditional music and dancing, hundreds of Thai Buddhist families gathered in Algiers on Sunday to celebrate the opening of the first Thai Buddhist temple in the state.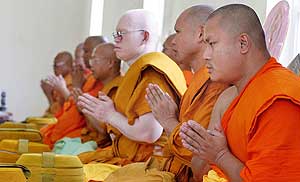 << ELIOT KAMENITZ / THE TIMES-PICAYUNE. Wat Wimuttayaram, the first and only Thai Buddhist Temple in Louisiana has its grand opening on the holy day called Phra Srisakaya Vimuttinyana which is a ceremony honoring Budda's image which has been placed in the new temple on Sunday, August 14, 2011.
The opening of Wat Wimuttayaram brought guests like Pranee Shelton from as far away as Fort Walton Beach, Fla., and Sudjai Satonpan, a restaurateur, from Slidell.
They were among more than 200 who assembled at an obscure piece of property still surrounded by dense forest and undergrowth just off Stanton Road, a narrow gravel road in largely undeveloped Lower Coast Algiers.
Surrounded, as it were by jungle, the site was decorated Sunday with hundreds of small Thai flags. Local Thai restaurants donated tables filled with food. Thai music filled the still, humid air.
Shortly before noon, more than a dozen robed monks passed along a line of tables with their alms baskets, receiving from the people donations of food, their sole subsistence.
Most were visitors invited to help bless the event. Longer term, about five monks will live at the temple, said Phrakhrupalad Wutthichai Phothachai, or "Monk Wutti, " the abbot of Wat Wimuttayaram.
From now on, the temple will become the social and spiritual center for about 100 Thai families living throughout metropolitan New Orleans, Monk Wutti said.
Monks in residence will give instruction in chant and meditation to members of the Buddhist community and teach Thai to the children and grandchildren of local members, Monk Wutti said.
Many Thais in the New Orleans area are professionals who have remained in the country after their education. Owing to Thailand's political stability, almost none are political refugees, like their Vietnamese neighbors.
Many, like Shelton, are wives of American men they met during military or corporate service in Thailand.
Until now, Monk Wutti and others said, local Thai Buddhists gathered regularly at members' homes, often on the West Bank. Now, however, the temple will provide their new center to keep in touch with each other, meet once a month or so, and seek instruction from the resident monks.
Sunday's celebration is the end of a process that began almost three years ago when the local community founded the organization that would build the temple.
Monk Wutti, a missionary monk living at a Laotian Buddhist temple in Mobile, Ala., agreed to come to New Orleans to help build a new temple on newly acquired land in Lower Coast Algiers.
A native of northern Thailand, Monk Wutti, 31, entered a Buddhist monastery at 12, and was ordained at 21.
Like that of other monks, his hair is close-cropped, almost shaved. He wears orange robes. He owns nothing, eats nothing after noontime, and subsists on what members bring him and other monks.
He is celibate. Indeed, his pursuit of asceticism is such that he does not even touch a woman.
"We dedicate our lives to avoiding desire," he said.
That said, Monk Wutti laughs easily and often. He appreciates irony, not least that he manages the temple's email and handles an iPhone.
The major building on the site is a raised cottage of ordinary Western appearance. Inside are small sleeping cells for the monks, and a great room dominated at one end by a large bronze Buddha.
On Sunday, a traditional holiday celebrating the image of the Buddha, the statue was terraced with ornamentation in the form of candles, flowers and other decorations. Believers entered the room, prayed quietly before the Buddha and wrote out their intentions on small gold cards of metal foil.
The cards will be rolled tightly and deposited inside the statue, Monk Wutti said.
Monk Wutti and those at the site are practitioners of Theravada Buddhism, one of the older and most conservative schools in that tradition. Theravada predominates in Thailand, Cambodia and Laos -- though not in Vietnam, where another tradition, Mahayana Buddhism prevails.
That is the tradition of the nearby Bo De Buddhist Temple, just a few miles away in Lower Coast Algiers. Despite their differences, members from the Bo De Temple helped the Thai community set down roots as neighbors, Monk Wutti said.
Wat Wimuttayaram is the only Thai Buddhist temple in Louisiana; the nearest other one is in Navarre, Fla., Monk Wutti said.