Buddhist temple to open hall
BY DAVE HART, Chapel Hill News, Oct 5, 2011
CHAPEL HILL, NC (USA) -- The Rev. WongGong So sat in the morning sun on a stone bench on the grounds of the Won-Buddhism Meditation Temple on Old N.C. 86 Friday morning.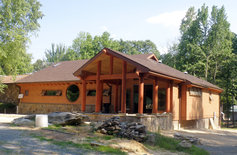 << The late local architect John Hartley designed and built the new dharma hall at the Won-Buddhism Meditation Temple on Old N.C. 86.
On the smooth top surface of one of the bench's supports were carved the words, "John Hartley/Blend with nature/Have fun."
That bright spirit infuses the new dharma hall that Hartley, a prominent local architect and a longtime practitioner at the temple, designed and built there before cancer claimed his life last summer.
"John was deeply involved with the temple for years," said Patty Daniel, the president of the temple's board. "There's a lot of his heart in this place."
The Won-Buddhism Meditation Temple of North Carolina will celebrate the opening of the new dharma hall with an open house Sunday, Oct. 9. The celebration will begin with a meditation service and will include lunch and music.
"This new hall gives us more space, and it's such a beautiful and peaceful place," So said. "We want to welcome the community to enjoy it."
The new hall will house most of the services and events the Won-Buddhism Meditation Temple holds: daily morning and weekend meditation services, as well as yoga sessions, language classes, children's dharma camps and other activities.
Won-Buddhism is a branch of Buddhism founded in Korea in 1916 by a spiritual leader named Sotaesan. It uses meditation and dharma principles to help practitioners cultivate wisdom, mindfulness and peace.
Won-Buddhism's central image is the circle, and Hartley's design for the 2,400-square foot dharma hall incorporates the idea of circles and arches throughout. With a rich earth-red wooden exterior, and a spacious, honey-colored interior, the hall includes a large round window facing north, and a large half-circle window looking out on a deck and the woods beyond to the south. The ceiling and other features are arched; even the subtle built-in wooden collection boxes have curved surfaces.
On the wall above the raised platform at one end of the hall hangs a large golden circle.
"In a traditional Buddhist temple you might find an image of the Buddha there," said John Delconte, a longtime member of the local group, or sangha. "Here, we have a circle: No beginning, no end, all-encompassing and yet also containing emptiness, it's an image that represents a lot of ideas."
In keeping with Hartley's dictum to "blend with nature," the hall he designed does that literally; not only it is largely constructed of wood and stone, but portions of the interior walls are made of red clay dug up from the site and clay mixed with sand, straw and rice water to form a sort of adobe-like plaster.
Delconte said about 100 people practice regularly each week at the Chapel Hill Won-Buddhism Meditation Temple, one of about 40 such temples throughout the nation. It is open to everyone, of whatever faith tradition or background.
"I don't really think of it as religion so much as learning," he said. "The Dalai Lama said Buddhism is like an Eastern psychology. We have a lot of people who come here who are interested in mental processes and how to order their minds to lead to a more calm, peaceful life. You don't have to leave your old religion."
The North Carolina sangha began in 2003, when So moved to the Triangle and began holding meditation gatherings. At first she rented a small room in a house for the sessions, but the group soon outgrew that space. A year later she moved the gatherings to a yoga space in Southern Village.
"It was a nice space, but I felt we needed a permanent place," she said. "I looked at literally 1,000 listings, and I visited 100 houses looking for the right one.
"John Hartley helped me so much. I would say, "I've found a good candidate,' and he would go down into the crawlspace and say, 'No good, the foundation is not good.'"
In 2005 So finally found a house that both suited the sangha's purposes and passed Hartley's inspection, a ranch house on Old 86 that had been built by a scientist who worked in the Research Triangle.
That's where the sangha has held its events and meditation services, and where Kim and the temple's other priest, the Rev. Ilduk Kim, live. It's been a good home, So said, but it's cramped.
Not so the new hall. The $500,000 building was funded by donations, bazaars, workshops and fundraisers.
"We are thankful to everyone who has supported this and to all of those who come and participate," So said. "They made this vision possible."