400 Buddhist monks to march in Little Saigon
by ROXANA KOPETMAN, THE ORANGE COUNTY REGISTER, Apr 12, 2012
WESTMINSTER, TX (USA) -- Some 400 Buddhist monks, dressed in traditional garb, will march silently down Bolsa Avenue next month in the heart of the bustling Little Saigon neighborhood.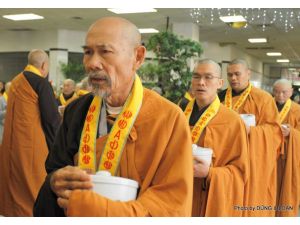 << Buddhist monks from the Tam Nguyen Temple II in Texas participated in a religious walk in a mall earlier this year. On May 6, about 400 monks--some of them from Orange County--will participate in a religious walk in Westminster's Little Saigon to celebrate Buddha's birthday.
Some of the monks are from Orange County. Others are from across the country and around the world.
They will be traveling to Westminster on May 6 by bus from Indio, where they are gathering for a three day event to celebrate Buddha's birthday at the Tam Nguyen Temple III.
The Westminster City Council, on a 3-1 vote Wednesday, granted the group a special events permit to walk on the sidewalk along Bolsa Avenue, from Magnolia to Bushard and back to their starting point, the Nguoi Viet Daily News newspaper office on Moran street. From there, the group will board buses to the Vietnam War Memorial at the Sid Goldstein Freedom Park to pray for the dead.
The walk is a "very profoundly religious event in the Buddhist spirit," said Gia Le, speaking on behalf of the organizers.
Bolsa Avenue can be heavily congested, noted Mayor Margie Rice.
"You can't even drive through Bolsa safely," Rice said. She voted against the request.
Rice also raised concerns about the number of monks walking. "They say 300 or 400, and then they'll have 1,000," she said.
The council capped the number of participants to 400. The organizers will pay for insurance to cover the event and five police officers to escort the procession.
"I know that the walk would cause a lot of problems down there, but you know, that's one of the things that adds a lot of color to that area," Councilman Frank Fry said. "Even though it does interrupt a lot of things, I think it's nice we could be able to do it. I'm all for it."