Buddhist monk accused of Alabama temple killing
AP, May 13, 2012
Grand Bay, AL (USA) -- Police have charged a Buddhist monk with fatally bludgeoning a temple leader in Grand Bay, AL.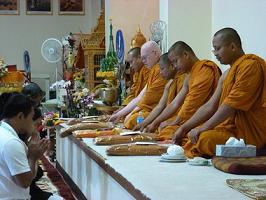 << At the Buddhist temple in Grand Bay where the Rev. Chaiwat Molechee was killed on Friday, fellow Buddhist monks gathered on Saturday from throughout the Southeast to receive prayers on behalf of the late monk. Buddhists from Jackson, Mississippi; Jacksonville, Florida; and New Orleans were among those who traveled to Grand Bay to honor the memory of the beloved monk. (Press-Register/Roy Hoffman)
Vern Phdsamay was arrested Friday and charged with the murder of 45-year-old Chaiwat Moleechate, who was found beaten to death. It was not clear whether Phdsamay had a lawyer.
Sgt. Paul Burch of the Mobile County Sheriff's Office said the killing happened at the Wat Buddharaksa Temple, which primarily serves Thai and Laotian immigrants.
Burch told The Mobile Press-Register that investigators found a witness. Police are seeking a Laotian interpreter to help interview that witness. Temple member Sasikant Noreross said the killing left her in disbelief.
She said Phdsamay had recently refused to talk to others and locked himself in his room for months, except when he would leave briefly to get food.
On Saturday morning, Buddhists began to gather from throughout the Southeast to mourn temple leader Chaiwat Moleechate, 45, who died Friday.
Moleechate was found beaten to death inside the temple, according to Mobile County Sheriff's Office investigators. Vern Phdsamay, 32, a monk who lived at the temple, has been arrested and charged with murder, officials said.
"People are here to pay respects," said Somprasong Songcharoen, a native of Bangkok who works as a plastic surgeon in Jackson, Mississippi, and helped fund the building of the temple.
With others from Jackson, Songcharoen mingled and visited with Buddhists from temples far and wide as cars pulled into the 5-acre religious site off a rural highway of cornfields, farmhouses, and small, Christian churches.
Among visitors were monks from Jackson; New Orleans; Jacksonville, Florida, and other cities, that had gathered to pray and receive offerings for the late monk.
Before the altar, with figures of the Buddha, a shrine was set up to Moleechate, with photos of the monk, a plate with apples, day lilies, and a candle.
The apples and other fruits, said Songcharoen, were symbolic of feeding the spirit of the monk.
Mourners approached the shrine and lit incense.
The temple, said Visanou Khamphouy, president of the congregation, planned a prayer service Saturday at 7 p.m. and Sunday at 7 p.m.