Buddhist groups gather weekly in Martin, Indian River counties
By Zaimarie De Guzman, TCPalm.com, February 23, 2013
Martin, Florida (USA) -- A small, golden sculpture of the Buddha faced a quiet, meditating crowd early this month in Stuart.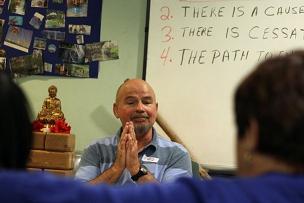 It was the first meeting for the newly formed Treasure Coast Dharma Practice Group, which is one of several small Buddhist groups that gather each week across Martin and Indian River counties.
Curiosity, health problems and a search for enlightenment are a few of the reasons that have led locals to join and form the groups, including the recently opened Mangalam Dharma Center for the study and practice of Tibetan Buddhism in Sebastian, and the Vero Beach Zen Buddhism practitioners.
Although about 0.5 percent of Floridians practiced Buddhism in 2008, according to a Pew Forum on Religion and Public survey, practitioners on the Treasure Coast see Buddhism slowly growing locally.
"People continue to become attracted to the psychological aspect of Buddhism," said Jim Patteson, who leads the Zen group of about 30 in Vero Beach and is a retired professor of Eastern philosophy, among other topics, at Indian River State College. Most of Patteson's college students, he said, have become practitioners of Buddhism upon finishing the class.
"Something else I've noticed that attracts people is that they can go on with their religion, yet still benefit from Buddhism," added Patteson. "Buddhism answers most of the important things about life."
The fundamental insight of the Buddha is: life consists of suffering, which is caused by attachment to the self, which is in turn attached to the things of this world. Liberating oneself from such attachment is done by following the Eightfold Path, including mindfulness and concentration.
Patteson learned these philosophies in 1968 as a 19-year-old Marine in Vietnam. He'd gone into town one night in search of drugs, coming across a poor family that invited him to learn to meditate.
Patteson studied Buddhism during and after leaving the military. When he landed in Vero Beach about 25 years ago, he found no Buddhism group in town. Now, there are about three Buddhism groups in Indian River County.
Patteson is helping Martin County resident Fred Walker start a Stuart Buddhism group, which is expected to meet monthly at rented space in Unity of Stuart. Patteson and Walker believe the group is the only in Stuart, with the nearest Buddhist temple in Palm Beach County.
Walker, 68, said it was a heart attack in his 40s that put him on the path to Buddhism.
"I'm reaping the benefits of Buddhism. I'm more at peace than ever," said Walker, who went on a Buddhist spiritual retreat this month and hopes others in the area will find an interest in Buddhism.
Walker's first group meeting attracted 25 people.
"I came to the group to learn to be calmer and not hold on to anger," said Port St. Lucie resident Tara Raymo, 37, who attended the meeting. Raymo was raised Catholic but now is agnostic, and had been searching for a Buddhism group near her when she found a posting about the Stuart meet-up.
"I think people are coming here to learn to live a happier life," she said.
Like Raymo, some practitioners of Buddhism are spiritual but not religious. Ram Jyoti, who leads the Tibetan center in Sebastian, said many regulars in her group of about 20, however, are members of nearby places of worship.
"They find that what they learn from Buddhist study and practice enhances their faith and ability to deal with difficulties in their lives," Jyoti wrote in an email. "There also is a strong focus on compassion — cultivating the intention to benefit all beings and doing what is possible to help others.