Oprah Store Taken Over by Buddhist Center
By Chloe Riley, DNAinfo, March 14, 2013
WEST LOOP, Chicago (USA) -- A North Side meditation center plans to take over the old Oprah Store.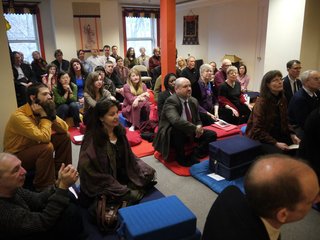 << A group meditating at the Shambhala Meditation Center in Rogers Park. The center plans to occupy the old Oprah Store on 31 N. Carpenter St. by late summer.
(Facebook/Chicago Shambhala Meditation Center)
The Shambhala Meditation Center, currently at 7331 N. Sheridan Rd., will soon make its home at 31 N. Carpenter St. ideally by the end of summer, according to Gina Caruso, a chair in the center's governing council.
The Buddhist-inspired organization, which has been in Rogers Park since 1995, provides lessons in meditation as well as open meditation sittings with community gatherings.
The large front room of the former Oprah store will be used as the main meditation area and could fit about 50 to 60 people for events, Caruso said. She also said that the center would provide community services and offer classes ranging from yoga to flower arranging.
"It's definitely a place where people can feel at home…and be creative and do things they might not normally get a chance to do," she said.
Shambhala is also working with Harpo Studios to provide a 30-space parking lot about a block away from the center at the corner of Carpenter and Randolph streets.
"We were so happy to find the space," said Thomas Golz, the vice chair of the center's governing council. "As soon as we walked in and saw the neighborhood, we loved this location."
The meditation center also wants to rezone the basement — previously a storage area — to have classes and community activities. That hearing will take place Friday at city hall.
The Oprah store had offered show souvenirs, infant products, books and magazines and "Oprah's Closet," which sold clothing once worn by the talk show host. The store closed in June of 2011.