Tomoka inmates find Buddhism
By Jim Haug, News-JournalOnline.com, February 18, 2014
Daytona Beach, FL (USA) -- James Perez, 44, is a former professional kickboxer and "combat athlete" now doing the time in a state prison just outside of Daytona Beach for a "little street justice."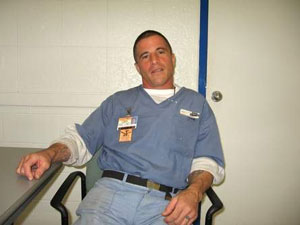 << James Perez
"My next-door neighbor was injecting his 4-year-old step daughter with heroin. So I knocked down his door and beat him half to death. So they gave me a couple of life sentences for that," he said in an interview at Tomoka Correctional Institution.
He doesn't regret what he did.
"I would still try to kill him. You don't shoot heroin into a 4-year-old's arm," Perez said.
He has found religion in Buddhism, joining a weekly meditation practice led by two Buddhists, the Rev. Morris Sekiyo Sullivan of the Volusia Buddhist Fellowship in DeLand and Paul Cummins, a Soto Zen Monk from the Brevard Zen Center in Cocoa Beach.
Like other inmates, Perez credits Buddhism for keeping him together and making prison life more tolerable. Perez focuses on "the here and now" because thinking about serving a life sentence "will tear your mind apart."
Being in prison, Perez said he is "surrounded" by pedophiles.
At times, "I just want to grab one of them and choke them half to death," Perez said. "So I meditate and try to center myself. I take comfort in the fact that they're here and not out on the street."
John Kingham, 53, said he has been "in prison 30 years. I don't think I could have maintained my sanity and sense of humor without (Buddhism). I will bet any kind of money on it."
In Buddhism, they say the teacher will appear when the student is ready, but their Buddhist teacher, Sullivan, recalled being reluctant.
Ten years ago, the Buddhists at Tomoka were looking for a spiritual guide because they could not meet without a volunteer chaplain.
Eventually, their appeal found Sullivan through the Unitarian Universalist Church in Ormond Beach.
"I was nervous about it. I didn't feel qualified at the time — I had no credentials and doubted my ability to be of much use to people in those kinds of circumstances. And it was in a prison, which sounded pretty intimidating," Sullivan said. "But shoot — they needed someone, and I could do it, so I just didn't feel like I could say 'no.' I knew Buddhist practice had held me together through some very rough times, and I just hoped there was a way I could help them get a little bit of that."
Sullivan started the weekly meeting in the prison chapel in January 2006. The session typically involves a guided meditation, some chanting and bell-ringing and a time for questions and answers.
The session attracts about 30 people. Sullivan estimates they have served more than 150 people since 2006.
Sullivan does not take any credit in changing behaviors.
"The dharma makes a difference; their practice makes a difference. I think to be accepted unconditionally as a valued human being by another human being makes a difference for many of them," Sullivan said. "Personally, it's one of the most rewarding things I do."
Volunteers have had to step up in a time of cutbacks at Tomoka, where James Perry Davis is the only full-time chaplain for 1,950 inmates and 400 employees.
Davis recalled that when he started in 2000, "there were four full-time chaplains and two full-time secretaries. With budget cuts I'm the only one left. I still do the work that 6 full-time employees did by myself."
The spiritual needs of prisoners have not changed.
"People are looking for answers in here. Eventually if they get past the stage of wanting to mess up all the time, some people will ask 'What am I going to do with the rest of my life? Why am I here?'" said Kingham, a life-without-parole inmate who has been ordained a Buddhist monk by Cummins.
He wears a black kimono of a monk.
Kingham read popularized versions of Buddhism in the fiction and poetry of Jack Kerouac and Allen Ginsberg when growing up, but did not start the practice until winding up in prison.
"I'm in for life for armed robbery and cocaine, a bad combination, yes. White boys, shotguns, crack addicts, a bad business, yes," Kingham said.
"I put in 10 to 14 years before I even got a clue that my life was wasting away," said Kingham. "The spiritual practice brought me to the realization that you're going to be here. You might as well make something of it."
"If your life is not meaningful, then why keep living?"
Prison life presents many "practice opportunities" for spiritual growth, which is "a sly, zen way of saying aggravations," Kingham said.
He gave the example of standing "in the breakfast line at 6 a.m. Somebody is yelling and carrying on because the line is not moving fast enough. The guy next to you is complaining about the food he got. You can either go, 'Yeah, this food is terrible' or I can recognize I have an aversion to the situation. But the situation is what the situation is. My aversion is something extra I am adding to it."
He releases stress through a big exhale. "We return to the breath and then (big exhale)," Kingham said. "That lets a little light in. (The aggravation) does not weigh so heavily."
"The next time you're still aggravated, but if you train, a hundred times, thousand times, at some point it becomes so reflexive. You won't buy into the aggravation and you extend yourself (to others)."
Kingham said he will think: 'May this person standing next to me be happy. May they cease to suffer. May the person down the line yelling cease to yell and cease to suffer.'"
Kingham also practices gratitude, approaching everything as a gift, even prison food.
"A lot of people say, 'How can you be grateful for that slop they feed you? I remind them, 'Did you harvest the food? Did you wash it? Did you can it? Did you drive the truck to get it from the fields to the cannery? Did you prepare it here? Are you going to wash your tray when your done with it?"
"If you take one person out of that chain of events, there's no meal," he said.
Randal Haertl, a former inmate of the Tomoka Correctional Institution, credits Buddhist training at Tomoka for breaking him out of a cycle of drug abuse, criminal activity and return trips to prison.
"It changed my life completely," Haertl said, explaining that Buddhism has taught him accountability. "Instead of always pointing the finger, I now ask, 'What was my part in it?"
Haertl, 43, is now working two jobs for a window-tinting company and a catering service in Austin, Texas, recently working as a server on the buffet line during a professional conference of senior law enforcement.
"I just got out of prison 12 months ago. I've got five felony convictions and here I am standing next to (high ranking government officials). I found it so ironic. I found it a pretty drastic change in lifestyle," Haertl said during a telephone interview from his home in Austin. "It was a lot of trust in me."