A little Lhasa
by Laura Ingles, C'Ville, March 5, 2014
Central Virginia has become the center of a new kind of Tibetan Buddhist community
Charlottesville, VA (USA) -- "Tibet is my country," Venerable Tenzin Gephel said simply. "And I would like to go there one day."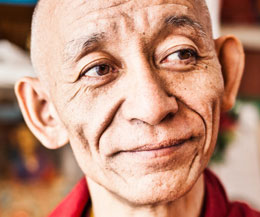 << Venerable Tenzin Gephel grew up in a Tibetan community in India, and joined a Tibetan Buddhist monastery at age 13. Photo: Martyn Kyle
Gephel, a Buddhist monk in his 50s who is the resident teacher at the Jefferson Tibetan Society, spent his youth at Namgyal Monastery in Northern India, the personal monastery of the 14th Dalai Lama, and eventually took his ordination vows from the supreme spiritual leader of Tibetan Buddhism. These days he lives on Olinda Drive in a quiet neighborhood and dedicates his life to teaching the principles and practices of his faith. He has never set foot in the country he considers his home.
Across town from the Society's headquarters, 27-year-old UVA grad student Natasha Mikles from Pennsylvania studies Tibetan culture and religions in pursuit of her Ph.D. in Sino-Tibetan Buddhism in the Department of Religious Studies. She recently spent a year in Tibet, an experience that changed her view on the country and its culture.
"To me Tibet is kind of divided," Mikles said. "I think it is both the Tibetans I see here, who preserve their culture in exile, and then the Tibetans who are recreating and regenerating their culture over there."
Mikles is part of a growing cohort of young, educated Americans raised in Christian homes who find that Buddhism fills a void in their lives. Their paths have led them into community with Tibetans living in exile and the intersection has made Charlottesville an epicenter of sorts.
Matthew Conover, a 20-something UVA grad from Richmond with an upper middle-class Catholic upbringing, discovered Tibetan Buddhism almost by accident. Instead of relocating to New York to pursue a career in music writing after he graduated last year, he joined an intentional community at the top of a mountain, 25 miles south of Charlottesville. Naturally, Conover's view of Tibet is different from Gephel's.
"Tibet is more than a country now," he said. "It's an attitude toward life, and it is completely contagious."
How does a kid raised around Jesus and corporate America come to find himself making offerings to the Buddha? I hopped in my car and drove to Shipman, Virginia at the start of my quest to find out.