Triangle Buddhists celebrate Earth Day with interfaith service,
By John Murawski, newsobserver.com, April 20, 2014
Raleigh, North Carolina (USA) -- Triangle Buddhists chanted, prayed and noshed Sunday in a celebration of Earth Day, blending a Western ecological movement in its infancy with an Eastern philosophy going strong for 25 centuries.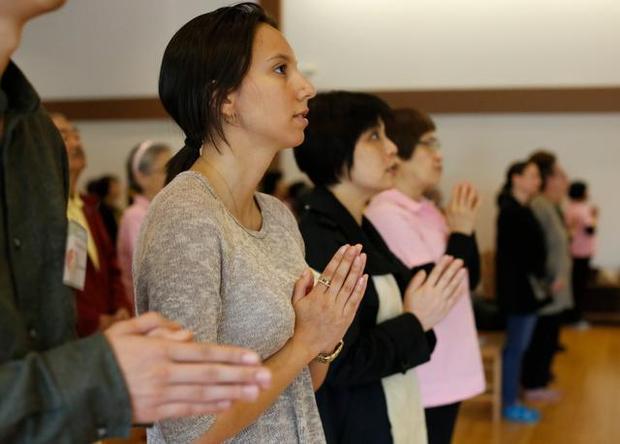 << Carolina Ramos, second from left, prays during an Earth Day ceremony at the Fo Guang Shan Temple on Sunday in Raleigh. JILL KNIGHT

It was the third Earth Day ceremony for Raleigh's Fo Guang Shan Temple, an international congregation that conducts services in Mandarin and English and welcomes Christians, Jews and Muslims to celebrate life's interconnectedness, harmony and tranquility.
About half who attend temple ceremonies are members, numbering some 200 people, and others are visitors, reflecting the region's cultural diversity. Among those present was Linda Chaplin, a Catholic originally from Ohio who has been attending Buddhist temple services here for a decade, and was keeping a sharp eye on the time so she wouldn't miss the afternoon Easter mass at St. Francis of Assisi Church across town.
As the temple's robed "venerables," or monks and nuns, led the service, tintinnabulating bells pierced the air and pungent whorls of incense curled lazily from smoking wicks. The hourlong ceremony recognized community members who kept a vegetarian diet for seven days, and featured a prayer for the Earth, ever-threatened by the five mental poisons that afflict the unwary.
The ceremony culminated with the distribution of seed packets – basil and cucumber – for which parishioners lined up as if receiving holy communion.
"The earth is sick, so we need to do something." member Jill Chen observed after the service.
Jane Walther, a regular attendee, noted that "Buddha was the first environmentalist," with his prescient admonition to respect all sentient creatures. A Raleigh artist and photographer, Walther has attended Buddhist forums in China and Taiwan and feels a close kinship with the humanistic Buddhist teachings of the Fo Guang Shan Temple.
"It's a place that has really good chi," she said, using the Chinese word for energy. "Nothing's required – and that's why I like Buddhism – it's a suggestion."
Several regulars noted that attendance was lower than usual Sunday because the Earth Day celebration this year coincided with Easter.
After the indoor Earth Day ceremony, the venerables thrice sounded the gong to inaugurate a mini-festival outside on the patio. A pair of colorful, costumed creatures writhed and wriggled about, performing the traditional lion dance, the lion representing luck.
Members and guests mingled, sampling spring rolls, dumplings, noodle dishes, brothy soups, coconut custard tarts and a multilayered mango cake.
Carolina Ramos was among those who didn't touch meat to her lips for seven consecutive days, acknowledging it was a struggle for a neophyte. It was only the third time at the temple for the 21-year-old student at Wake Tech, who is originally from Mexico. A Catholic by upbringing, Ramos is attracted to Buddhist philosophy and the study of meditation.
Rima Fakhoury emphasized that she is not a Buddhist, but declared herself "a believer in their philosophy," particularly the concept of non-attachment to things. A fluent Arabic speaker and a reservations clerk for American Airlines, Fakhoury has been coming to the temple for more than a year.
On the other end of the spectrum, David Gurney, brought up as a Methodist, has been studying Buddhism for years and finally joined the temple about 2 1/2 years ago. With shaven head and a traditional silk shirt, the 44-year-old projected a monkish aura and said he is drawn to the Buddhist values of tranquility, acceptance and transcendence, a theme echoed by almost everyone there.
"It's like a light shone on me and gave me a sense of peace," Gurney said of a particularly intense meditation he experienced while hospitalized for a month.
Read more here:
http://www.newsobserver.com/2014/04/20/3798369/triangle-buddhists-celebrate-earth.html#storylink=cpy