Buddhist monk comes to Bible Belt
by Noah Manskar, The Tennessean, July 28, 2014
Nashville, TN (USA) -- The grandson of Baptist ministers, a student of Christianity, Hinduism and Buddhism, and an ordained Buddhist monk, author and teacher Lama Marut is coming to the Bible Belt this week for three events in Nashville promoting his new book, "Be Nobody.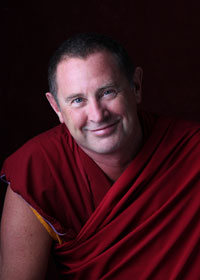 As someone who comes from a Christian background and now lives and practices Buddhism, what is it like to come to a place like Nashville, where Christianity is a big social and cultural force?
I feel quite comfortable. … My interest is in trying to reach people wherever they are, whatever kind of religious affiliation they might have, or none at all. We all are trying to reach the same goal. … Regardless of whatever kind of identity card you're carrying, or lack thereof, we all want to have a happy, good life, and the way to do that is taught, I think, in its sort of essential form in all the major traditions.
What is the importance of interfaith conversations like the one you'll be having here, and how do they influence the practice of your Buddhist faith?
In conversation, we can explore the similarities and differences. All religions are not alike; that's a sort of naive understanding. But I think if you go beneath the surface, the simple superficial level of religious belief and practice, you can find pretty much all the elements of every religion in any religion. … It's going to be extremely important for us, in an increasingly multicultural, multireligious global society, to learn how to live together in harmony without the kind of problems that we've had and continue to have between religious groups.
In your book you talk about how technology and social media have a lot of self-indulgent effects. But despite that, you're pretty active on Twitter. What do you find are the benefits of social media?
The Internet, I find, is a tool for transmitting spiritual guidance and not self-aggrandizement. I'm not interested in being famous as an individual person or having a lot of "likes" on the Facebook page. But it's a very, very powerful tool for communication, and so you use it. Why not? Unfortunately much of what happens on the Internet … encourages the kind of self-centeredness that we're all liable to anyway. … And it just seems like that's unfortunately how many, many people are using this potentially incredible media that the Internet has opened up for us.
Lama Marut's visit to Nashville
• Book signing at Parnassus Books, 3900 Hillsboro Pike, 6 p.m. Thursday
• "A Buddhist, a Christian, and a Jew Walk Into a Room: Finding Contrast and Complement in Spiritual Life" with Molly Marshall and Rabbi Rami Shapiro at Scarritt-Bennett Center, 1008 19th Ave. S., 7:30-9 p.m.Thursday
• "Life as Art, Work as Play" at Cheekwood, 1200 Forrest Park Drive, 7-8:30 p.m. Friday
• "The Buddha Taught No Dharma," four sessions at Cheekwood, 1-to 3 p.m. and 4-6 p.m. Saturday and Sunday .