Lejeune Buddhist Sangha group meets a local hospital
By Katie Hansen, JDNews.com, August 10, 2014
Jacksonville, NC (USA) -- A bell sings three times and the small group sitting in the Naval Hospital Camp Lejeune's Chapel opens their eyes and starts putting on their shoes.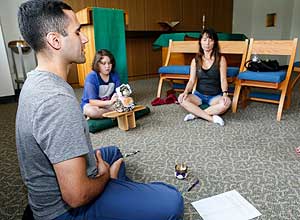 Not a minute before, they all sat silently, backs erect, breathing rhythmically in a circle close to the wall of windows letting in the July sunlight.
The Lejeune Buddhist Sangha is a meditation group which meets at 11 a.m. each Thursday in NHCL's non-denominational chapel.
The group's founder and facilitator, Greg Matos, a clinical psychologist at NHCL, started the group in November 2013 as an effort to meet other Buddhists on base.
"When I got assigned to the hospital, I wanted to connect with other Buddhists," Matos said. "When I saw there wasn't a space or opportunity for that, I approached the chaplains."
Matos said the chaplains at the NHCL Wellness Center "seemed excited" to help him create the group, and since then have provided the group a ringing bell, a statue of the Buddha, and cushions for them to sit on during meditation.
Matos has been practicing meditation for a decade, but only started identifying himself as a Buddhist two years ago.
"It helps other people understand what it is, where I'm coming from," Matos said, noting that the identification is not really for his benefit but for others.
His group, which on average brings in a handful of people to practice meditation each week, is open to anyone regardless of their experience with Buddhism.
The group meets for less than an hour and devotes the beginning of the meeting to discussing Buddhist teachings, such the enlightened path and the four noble truths: the truth of suffering, the truth of the cause of suffering, the truth of the end of suffering, and the truth of the path that leads to the end of suffering. This is to say, suffering exists; it has a cause; it has an end; and it has a cause to bring about its end.
The meditation practice aims to benefit the practitioner's peace of mind and give them a sense of presence.
"It's an opportunity to take a few moments out of the day to calm the mind and appreciate some silence," Matos said.
When meditation begins, Matos strikes the ringing bell once, something he said is simply "an opportunity for the mind to focus on a particular sensory experience" as a way to ground it.
Matos doesn't require anything of anyone who attends - they need not have any background in Buddhism or meditation - for he will go over the basics of breathing correctly for meditation.
They end meditation with three chimes of the bell.
"Three, we're coming back, we're coming back to the room, we're coming back to the moment," he said.
An announcement is made each Thursday at the hospital inviting anyone to come join.
The group, though small, said they come for several reasons.
For JoAnn Hall of Jacksonville, an employee of NHCL, who heard the announcement one day and came to check it out, said the group has been a time to meet people and clear her mind in the middle of a busy day.
Wednesday Davis and her daughter Heidi, 11, live aboard Camp Lejeune and they have been coming to the group for approximately four months.
While Wednesday meditates with the others, Heidi sits quietly and plays with a toy, this time a stuffed animal cat.
"This was really interesting because it's right here and convenient," Wednesday said. "I find that it helps me become more focused and it helps me to relax."
But Wednesday said there is a social aspect intertwined in the class, where she can meet people.
Matos said Buddhists "in general don't have an active effort to convert people." Instead, he said they maintain an attitude that if Buddhist study is helpful to others then they are welcome to join.
And Matos himself vacillates between classifying the practice as religion and simply practicing a certain way of living.
"In terms of the practice, being grounded in particular beliefs and values and world view you could say its religious, in terms of what we actually do, we're really grounded in practical meditation," Matos said. "It's much more about the practice of meditation - that's what drew me to Buddhism in the first place - you have a short amount of time on this earth and what good things are you doing. It's all about practice."
Including, Matos said, making sure you use great care in your thought, speech, and actions "to promote a better world."
Matos said most of the group don't even call themselves Buddhists, but associate with another religious tradition and find that Buddhist meditation overlaps with their religious beliefs.
"That tends to be the case," he said.
It's also the case for members of the Buddhist Study and Meditation Group of Morehead City, which meets the first and third Thursday of every month at 7 p.m. at the Unitarian Coastal Fellowship, 1300 Evans St. in Morehead City.
Ann Rivers, a member of the group, said Buddhism in itself is not a religion.
"It's a way of life," she said. "It's more about becoming familiar with what the Buddha taught … He (the Buddha) did not address the question of whether there was a God. He thought it was just not an important question. What is important is how you think and how does that affect how you act."
Because of that, Rivers said people can come to Buddhism from any perspective whether its Christian or atheist.
In fact, she said the majority of people in their group come from Christian backgrounds or no religious background at all, Rivers said.
"Thich Nhat Hanh in particular talks a lot about the overlap between Christianity and Buddhism," Rivers said, mentioning the author's book Living Buddha, Living Christ. "The principles of compassion and love are common to most all religions so we're trying to learn how to do this."
Rivers, who also volunteers at a Buddhist study group at a prison, said one of the participants in the group's mother was worried he would lose his Christian roots by being involved in the group.
"And he said, 'Mom, Christianity teaches you to love everybody, Buddhism teaches you how,' and I find that to be true," Rivers said.
The group, Rivers said, is not theoretical and doesn't delve into esoteric concepts, but stays firmly grounded in the practical ways in which the Buddhist practices can be applied to life.
Anyone, regardless of background or experience, is welcome to attend the group at any time.
"We're happy to have people," Rivers said.
The study group begins and ends with silent meditation, according to Rivers, to help members focus. Then the group discusses a book they are reading and the concepts it discusses.
The content goes over the "basics of Buddhist thinking," according to Rivers, including the four noble truths, as well as the eightfold path: Right Understanding, Right Thought, Right Speech, Right Action, Right Livelihood, Right Effort, Right Mindfulness and Right Concentration, for the pursuit of the end of suffering.
"Things that the Buddha taught most importantly," Rivers said.
Rivers said the group is a great way to get one's feet wet if you have never experienced Buddhism but want to explore it.
"Many of us don't have much practice, some of us have more. It's not very structured at all," she said. "What we really mainly end up talking about is how to apply the principles of Buddhism to our lives. How does it help us to think, how does this help us to act."
And for Rivers, she said Buddhist teaching and practice has helped her live a better daily life.
"Certainly for me, and I think for most of us, it helps us to be aware - mindfulness is a main concept - and so, we think about what we think about, either in meditation or when we're actually talking to somebody. We become aware of small judgments we may be making or things that get in the way of being inclusive. And then we cannot act on those things, because we all have them, we all have some prior judgments," Rivers said.
The group works as a forum to discuss examples of how to apply the Buddhist teachings practically to everyday life.
"Oftentimes it has helped us to reflect and not act in a habitual way," Rivers said. "And sharing that with other people is really kind of inspiring."
The group has been meeting for a couple years now.
The church also has a non-sectarian meditation group which meets at 5 p.m. on Wednesdays. Some from the Buddhist group also attend the meditation group, but they are not affiliated.
Rivers said anyone who wishes to join either group can come on out, no notice or invitation necessary.