Baton Rouge Buddhist temple to celebrate anniversary
by Kyle Peveto, The Advocate, May 17, 2015
Baton Rouge, Louisiana (USA) -- Covered in the immense shade of live oak trees, the grounds of Baton Rouge's Tam Bao Temple exude peacefulness.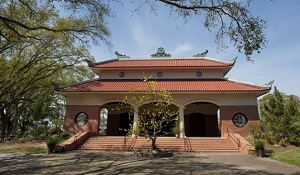 Tucked into a large lot on Monterrey Boulevard not far from Florida Boulevard and Cortana Mall, the Buddhist temple provides an oasis of calm, said Thich Dao Quang, the abbot, or administrator, of the temple.
"We try to make this place a peaceful place so people in the community can find their inner peace," he said, walking the grounds in his long brown robe.
Founded 30 years ago, the Tam Bao Temple moved to the Monterrey Boulevard property in 2000. This weekend, the local Buddhist community will note the temple's 30th anniversary with reflection, meditation and a celebration of the Buddha's birthday.
The gates of the temple are decorated in brightly colored flags, and the community is building a stage for the crowd that is expected to be larger than can fit into the Mindfulness Meditation Center, where the usual weekend services are held.
Considered a small temple, Thay said, about 120 or 130 Buddhists attend weekly Sunday services in Vietnamese, while 50 to 90 frequent the Friday night mindful meditation, during which Thay offers a message in English that connects the Buddha's teachings to the modern world's problems. Most in attendance at Friday meditation were not raised Buddhist, and many have backgrounds in a different religion, he said.
During the week, small discussion groups meet at the temple, and recently, an Alcoholics Anonymous group has begun gathering there.
The temple has evolved to become an inclusive spiritual refuge, which is a goal of Thay's.
"Everybody needs their peace and quiet," said Lien Ta, a member of the community since its founding. "We welcome everybody."
Thay does not believe in proselytizing. He welcomes anyone who is willing to live in peace and happiness with others.
"Whoever is struggling in their lives, looking for the meaning of life, at least they have a place to contemplate life itself," he said. "I want to make this place available for everyone, not just the Buddhist people."
The world's fourth-largest religion, Buddhism is often called a philosophy because the Buddha is not worshipped as a god. It is religion because it is a system of beliefs, Thay said.
"We consider Buddha a great, great teacher and the enlightened one," Thay said, "but we don't consider the Buddha a person who makes all the decisions in our lives."
Buddhists believe four noble truths, among them that mundane life is suffering, and ignorance and desire cause suffering. The way to escape suffering is to reach nirvana, which is spiritual enlightenment.
The Tam Bao Temple was founded three decades ago by a group of 20 or 30 Buddhists who previously met in houses or rented a church beginning in the 1970s.
In 1985, when they purchased property on Brookstown Drive in north Baton Rouge, Ta said that is when the group formally organized.
Ta said the community has grown quickly since Thay came.
Thay came to the U.S. with his family after studying at a Zen Buddhist monastery in Vietnam. He studied psychology at Georgia State University and earned a master's degree in counseling at Southeastern Louisiana University in Hammond and is taking classes toward a doctorate.
While he insists that his degrees are not important, his education has allowed him to counsel those seeking help, either at the temple or at local mental health and addiction treatment facilities.
Thay encourages everyone — Buddhist and those who are not religious — to find what they are truly capable of achieving.
"True Buddhism for me is to encourage everyone to reflect on themselves and discover their own potential," he said.
When Thay first visited the Tam Bao temple in 2002, it did not have a resident monk. to lead the people, teach and officiate at ceremonies.
The community is growing. In 2009, it opened the Mindfulness Meditation Center, a replacement for the house that once served as a meeting place. Last year, the community also opened the Appreciation Tower, a 32-foot tower that holds the remains of many local Buddhists' loved ones. Another monk and a nun live at the temple or in a home across the street, and a novice interested in becoming a monk lives there, too.
As the community grows, Thay hopes the temple can attract more people in need of spiritual help.
"The ultimate goal of the temple should be a spiritual center for everyone so we can understand each other," he said. "Sometimes I think that people are stuck in their religious world so that they cannot understand each other. When you look at the big scale, all people love to live in peace and harmony."