Buddhist forest monastery approved for Englewood
By Michael Scott Davidson, The Herald Tribune, October 21, 2015
Sarasota, FL (USA) -- After more than three years of searching, a group of Theravada Buddhists on the Suncoast has found a new home.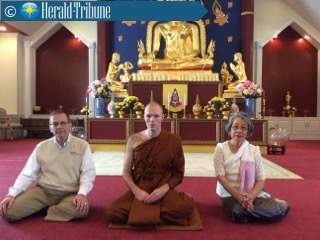 << John Raab, Phra Ryan Persha and Chlorsuk Raab sit together during Persha's ordination at Wat Buddha Bucha monastery in Decatur, Georgia, in January 2015.
PHOTO PROVIDED / JOHN RAAB
The Sarasota County Commission gave its unanimous approval to allow a special exception at an 8.7-acre lot in Englewood so that the Buddhist group can turn it into the area's first forest monastery. The property is located a few blocks from the historic Dearborn Street shopping district.
"We were totally elated that finally we've come to the end of this process," said John Raab, secretary of the Sarasota Forest Monastery. "It's been a long 10 months basically. We've never been through this. This is a first for us."
In August, the Sarasota County Planning Commission gave unanimous approval for the special exception to allow a place of worship and related structures.
Raab said the County Commission's decision was critical for the Sarasota Forest Monastery — formerly named the Buddhist Association of Central Florida — because it already bought the Englewood property. The organization faced a hard deadline at the end of August to buy the property for about $200,000.
There are plans for a 3,000-square-foot chapel, a 1,500-square-foot mediation center and a 1,200-square-foot workshop, according to a binding development concept plan. Separate residences for three monks and an abbot, the head of the monastery, are estimated to take up another 1,000 square feet.
In all, Raab said, the Sarasota Forest Monastery would only develop about 5 percent of the property located in the northwest quadrant of Steward Street and North Elm Street. More than 25 percent of the wooded lot would be preserved as wetland and wetland buffer.
"We'll only take down whatever foliage, trees that need to be taken down in order to put up the buildings that we intend to build," Raab said. "The monks don't require much in terms of basic shelter."
His organization hopes to attract monks to live at the monastery and instruct members on meditation practices.
The Buddhist Association of Central Florida was formed in 2011, Raab said. Many of its members are Thai immigrants, others are Americans and immigrants from Laos, and many are age 60 and older.
The group is comprised of Theravada Buddhists, Raab said. The branch finds forests especially important.
"The Buddha was born in a forest, enlightened in a forest and died in a forest," he said. "The idea of being out in nature and the forest is to have that tranquility."
Sarasota County spokesman Jason Bartolone said the county's next involvement will depend on how The Sarasota Forest Monastery proceeds with development.
"If they begin with the smaller residences, they will need to go through the building permit process," he said. "If they proceed with the larger meditation center, they'll go through the site and development process."
Raab said his organization will continue to fundraise for construction costs. A dinner and dance is planned this December in Venice Gardens.