Buddhist talk for teens describes finding peace and compassion within
By Tricia Caspers, The Auburn Journal, Feb 12 2016
Auburn, Alabama (USA) -- The key to spreading peace and compassion throughout the world is to first find it within. That was the message Geshe Phuntsho, one of six Tibetan monks visiting from the Gaden Shartse Phukhang monastery in India, shared with local teens at a small gathering at the General Gomez Art and Events Center on Tuesday.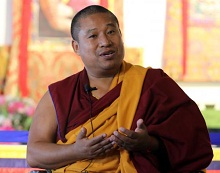 Phuntsho sat in a chair on a small stage in front of the audience wearing a burgundy and yellow robe. High on the wall behind him were strung brightly-colored cloth depictions of several different gods and goddesses. Tibetan prayer flags crisscrossed the ceiling above the audience. Directly behind Phuntsho was a cordoned off table where a detailed sand mandala continues to be created throughout the week.
The room was quiet as Phuntsho took two bells in his hands, held them in a prayer pose, closed his eyes and began to chant quietly.
Once he finished, he told the teens to begin to find peace by serving their parents, doing the most to care for them and bring them honor, even if they don't have the perfect relationship.
"Your mother is bearing you in her tummy for nine months, day and night," Phuntsho said. "That is good enough to deserve your respect."
Phuntsho became a monk as a way to repay his parents for their kindness.
"I was quite wild," he said, with a wide smile. "I was in military school. I was a boxer, and my nickname was Mike Tyson. I was very stubborn."
He always tried to honor his parents, though, and when, at the age of 21, he heard about the opportunity to join the monastery, he asked his mother if she approved.
"'That is the highest way to repay your parents,'" his mother said.
He never looked back.
Phuntsho is not suggesting that every teenager become a monk, but he encourages teens to study hard, go to college and have a comfortable life so that their parents won't worry.
He was surprised, he said, that so many Americans choose not to go to college.
"If you are not educated," he said. "A more educated person from another country will come here and be your boss ... You don't like it? What choice do you have?"
While education is important, greed will get people nowhere, he said.
"If you have a good heart you can fit in anywhere," he said. "You are welcome anywhere."
Those who are greedy and selfish, he said, never find contentment in their own lives because they don't feel they belong anywhere. They have a saying in the Tibetan tradition: "Live like a king; die like a dog."
He spoke about resisting anger, how children in Tibet learn to be patient with those who disagree with them, something he doesn't see in the U.S.
"In our tradition, two people will scold each other and then go have tea together afterward," he said. "In America, if you scold someone, they shoot you."
As an example, Phuntsho shared the story of the destruction of a 700-year-old monastery in Tibet.
In 1959, the monastery was destroyed by the Chinese. At the time there had been 3,500 monks living there, and only 180 monks survived. They were forced to build a new monastery in a refugee camp in India.
"Instead of being angry with the Chinese people," he said, smiling. "We have to thank them. It's because of them that so many have the opportunity to hear about the culture of Tibet."
In the Tibetan Buddhist tradition, a person's life repeats until he or she makes positive change, he explained. He told the teens to imagine having two buckets and a two separate piles of rocks – one black and one white – for every good deed or word (showing compassion, respect), put a white rock in one bucket. For every bad deed or word (acting out of greed, pride or jealousy), put a black rock in the other bucket.
"At the end of one day ... you can roughly estimate your next future," he said.
He also suggested that teens care for the earth as a mother, help their parents around the house, try not to spend too much time on screens – unless it's for educational purposes – and grow their own food as it's less expensive and healthier.
Gardens can be planted without much space, he said.
"If you can touch your hand to the ground," he said. "Anything can grow from that ground."