Advisors to Dalai Lama share Buddhist teachings in Ark
by Brejamin Perkins, KTHV, October 24, 2016
LITTLE ROCK, AR (USA) -- The spiritual advisor to the Dalai Lama is touring Arkansas this month. Today, he and other Buddhist Monks participated in a ceremony, "Silence, Stillness and Interfaith Harmony" at the Arkansas House of Prayer at St. Margaret's Episcopal Church in Little Rock.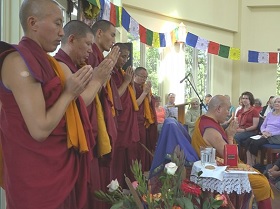 They came to offer blessings and share Buddhist teachings to those interested in learning more about the practice and faith. Over 100 attendees came out to the event to learn and listen to the teachings. Lame Tenzin, a Tibetan Monk, has been practicing his entire life and remembered his own journey towards enlightenment.
"At the beginning of my monk training, I didn't like it very much," he recalled. "We had to get up at four in the morning and meditate in very cold places."
Over time, Tenzin grew into Buddhism and now helps others find their own spiritual strength. He thinks Americans have more barriers than he had to achieving the kind of stillness he's mastered.
"I only believe in one God, but when I came here to America I said, 'Oh they have a second God,'" Tenzin said. "Which is called the Google! You can type anything and it will give you the answers."
Attendees also got to hear from the Venerable Thupten Ngodup, the Nechung Oracle (the state oracle of Tibet), a role he has served since 1988. Known as Kuten-la, he not only serves as the spiritual advisor to the Dalai Lama, but also offers him support and protection.
Ngodup was accompanied by Tenzin Choegyal and monks from the Nechung Monastery. Attendees got the chance to hear traditional chanting and be introduced to the Tibetan contemplative practice. A question-and-answer session followed the Oracle's message.
Representatives of other faith traditions were also on hand to welcome him and the visiting monks. The spiritual journey also held an event on Saturday at Hendrix College.