Buddhist temple welcomes all
by By Alex Perry, Suffolk News Herald, February 20, 2017
Buddhist monks have extended an open invitation to their serene Carrollton location for a celebration.

Suffolk, VA (USA) -- Wat Pasantidhamma in rural Carrollton is holding its Magha Puja ceremony from 10 a.m. to 1 p.m. on Sunday. Hundreds of people from many backgrounds are expected at the Thai Theravada Buddhist temple, and everybody is welcome to attend at no cost.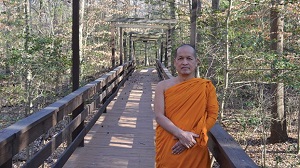 << Buddhist monk Sutin Pratoomfang stands on the bridge between "Sangha land" and "Dhamma land" on the temple's campus.

"This is not only for Thai people," Hampton Roads Thai-American Association president and Wat Pasantidhamma co-founder Rudee Jacobs said. "A lot of Americans are interested in studying Buddhism."
Magha Puja Day is in honor of the Fourfold Assembly, a historical event in Buddhism in which 1,250 monk disciples assembled to receive Buddha's teachings. The disciples were ordained and given the fundamental principles of Buddhist Doctrine: do no evil, do well, and purify the mind.
Attendees will begin with group chanting before being organized to ceremoniously offer the monks food. Three Buddhist monks live in a residence hall on the campus, and after the monks have eaten, a buffet will be served to the congregation.
Jacobs said there will be all of kinds of food for attendees, from traditional Thai recipes to vegetarian options. She has been told in previous years by attendees, "You've got good food, better than a Thai restaurant."
The finale will be a procession led by the monks. Each person will have a candle, incense and a flower. They will circle the Buddhist statue located in "Sangha land," a word in Pali meaning "assembly" and one of the "three jewels" of Buddhism. Each person will then place his or her respective flower in front of the Buddha in turn.
"It pays respect to the Buddha and appreciates his teachings," Jacobs said.
Wat Pasantidhamma - meaning "a peaceful temple in the woods" - was founded in 1998 by a group of Buddhists that wanted a place of worship locally. Referred to simply as "Wat Pa," the nonprofit organization was the first Buddhist temple established in Southeast Virginia. It has been one of only three such temples in the state since 2010.
Hundreds of people in Hampton Roads attend the temple's weekly services, and up to 600 come from all over the country for its festivals throughout the year, Jacobs said.
The temple has undergone considerable improvements over the years. The worship building was finished in 2004, and both Buddhists and lay people continue to donate and money to improve the sanctuary.
"This is the right place," Jacobs said. "Thai people have a saying that if it means to be yours, it will be yours."