Some wait for word, but word can?t get out
By JANETTE RODRIGUES, The Virginian-Pilot, August 31, 2005
Monks and Buddhist delegation from California attending a local temple's festival have yet to be contacted
Biloxi, Miss. (USA) -- The most agonizing thing for Cindie Murawski is not knowing what has happened to family members who decided to hunker down in Hurricane Katrina's path.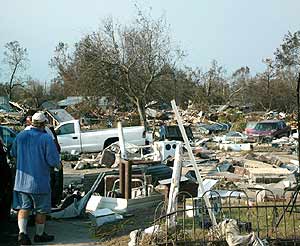 << Scene of devastation taken from Howard Avenue, Biloxi, Mississippi
Her sister, Cheryl Rasbury, 46, decided to take shelter at the small town newspaper, The Sea Coast Echo, where she works in Bay St. Louis, Miss. Rasbury was so confident that the building, which survived Hurricane Camille, could withstand Katrina that she brought her 17-year-old daughter and 4-year-old granddaughter with her.
Murawski, 43, of Virginia Beach, said Tuesday that she hasn't heard from her sister since Sunday afternoon.
"Basically, Bay St. Louis is now a river," she said of the town of 8,200, where her sister lives a few blocks from the Gulf of Mexico.
She is not alone.
Hampton Roads residents with family and friends in the Gulf Coast areas hardest hit by the hurricane have been unable to reach them for days. Authorities say they have no specific information to pass on because the hurricane devastated communications networks.
Locals are worried, and some are growing progressively frantic as they make futile calls to disaster relief organizations, or sift through media reports, trying to cull something from the news.
A face in a crowded shelter. The name of someone rescued from the roof of a house. Anything.
Diana Ngo, 35, is trying to find out what happened to the Rev. Thich Tam Hoan, the monk of the Chua Giac Hoa Buddhist Temple in Chesapeake.
He flew to Biloxi for a annual religious celebration, and he found himself stranded in the resort city on Saturday after the airport was shut down because of the hurricane.
Ngo said that Thich and the six monks, including one in his 80s, and a nun who lives at the Biloxi temple were turned away from a nearby shelter because there was no room.
"The temple is only five minutes walk from the beach," Ngo said of Biloxi. "We are concerned about the water and the flooding. The last time we heard from him was Sunday."
Thich called on Sunday night to reassure temple members that he was okay. He didn't want them to worry.
Ngo and other temple members cannot stop thinking about their monk. They have talked about renting a vehicle and driving down to Biloxi to find out what has happened to him.
Rob Shapiro , spokesman for the Hampton Roads Red Cross, said the organization has received several telephone calls from people trying to local family and friends.
"This is tough because we don't like to say we can't help anybody," he said. "But communications are down, and they might be down for a long time, and people can't get in there."
He said the Red Cross is meeting immediate emergency needs, such as shelter, food and medicine; state and local emergency management and the Federal Emergency Management Agency , or FEMA, are dealing with search and rescue efforts; and utility companies are working to restore power, water and telephones.
Murawski was able to reach another family member, who tried to check in on her sister. He was unable to reach Bay St. Louis, and the state police in Mississippi have asked people to stay out of the effected areas, she said.
"I'm waiting to find out when the roads are passable," Murawski said. "Until then, I'm trying to live life as normally as I can. I'm doing my best to hold on tight right now."
---------------------
Buddhist Channel Editor's Note
We were informed by Andrew Pham of Santa Ana, California that Most Venerable Thich Dao Quang and the delegation of monks from California who had gone to Biloxi to participate in a community festival there on August 26, 2005 have not yet returned. Up to press time, there was no news of their whereabout since August 31. Andrew have requested for prayers for the safety of Ven Thich Dao Quang, reverend monks and fellow Buddhists who were caught in hurricane Katrina's path.
The temple in Biloxi is situated at 179 Oak St., Biloxi, Tel: 435-0737 (Mississippi). Efforts to contact the temple had been in vain. If you have any information of this delegation's whereabout, please write to:
Andrew Pham
Email: vietunlv@aol.com
Santa Ana, CA
or
Editor
The Buddhist Channel
editor@buddhistchannel.tv
Kuala Lumpur, Malaysia
----------------
TIPS from the Red Cross
The Red Cross said anyone trying to locate people in the disaster area should:
Contact other family members and friends outside the disaster area to see if they have heard from the missing person.
Send a self-addressed stamped envelope with a sheet of paper to your family member. The post office is good at setting up emergency mail systems.
If the person in the affected area has e-mail, sent them e-mail just in case they have been evacuated to a place with working utility lines and Internet access.
Listen to local news for additional information on contacting people in the disaster area.
Continue to call the telephone numbers of people in the disaster relief area every day, especially during off-peak hours.