Buddhists invite you for a peaceful visit
By Kristin Boyle, Star-News Correspondent, Sept 18, 2005
Bolivia, North Carolina (USA) -- Most people in Brunswick County have heard of it. Some might even know where it is. But few have visited Wat Carolina, the Buddhist monastery near Bolivia.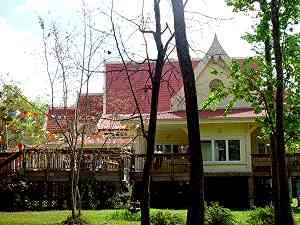 Though "monastery" may conjure up images of monks living off the land, the monks at Wat Carolina live simply and rely wholly on donations to survive. Their days are spent chanting, meditating and studying the many volumes of Buddha's teachings.
Only three monks, Abbot Phrakru Buddhamonpricha and two novice monks, live on the grounds full time. They wear the traditional yellow-orange Buddhist garb. A groundskeeper also lives at the monastery.
The monastery began in 1987 with a donation from the abbot's sister, who at the time owned the Ocean Crest Motel. Originally, the monastery consisted of a small house on 21 acres.
Phrakru Buddhamonpricha explains that the Midway Road location was chosen on purpose since the Buddhist path to enlightenment is called The Middle Way.
The house still serves as a temple and resident housing.
Construction of a large multipurpose hall has recently been completed, minus a few finishing touches. The hall is part of the abbot's master plan, which includes future resident housing and a temple.
"Step by step we build the temple from donations. But there are many, many steps," he said.
Monks also receive donations of the tasty variety from Phrakru Buddhamonpricha's nephew, who owns Thai Peppers restaurant in Southport.
Under Phrakru Buddhamonpricha's watch, the monastery has added more than buildings. The congregation has increased, with about 30 people regularly attending Sunday meditations and more than 300 attending large celebrations.
A recent ceremony for one of the novices held in the new multipurpose hall attracted attendees from as far away as New York.
Like the "visitors welcome" sign marking the entrance, Phrakru Buddhamonpricha welcomes people curious about the monastery or Buddhism to attend a Sunday meditation or one of the upcoming special events.
Services are held in English, with Thai being added to large gatherings. For more information visit www.wat-carolina.com or call 253-4526.
Starting at 10:30 a.m. today, the monks will celebrate the Buddhist holiday of Wansart with lunch, food offerings, a meditation and special ceremony. Wansart Day is considered one of the important festivals of Buddhism and is a time when religious ceremonies are performed to honor deceased relatives.
Loving-Kindness Meditations will be held at 1 p.m. Saturday and again on Dec. 17. The meditations are intended to help to bring harmony to our relationships with others.
Saturday's meditation will be led by Deborah Welch, who is vice president of the N.C. Buddhist Association and has been a member of Wat Carolina since 1993. Ms. Welch also teaches Kundalini yoga at the Weightless Albatross in Carolina Beach and has incorporated mindfulness meditation and anapanasati, or breath meditation, into the Loving-Kindness Meditations.
The December meditation leader is Cynthia Hill Noll from the Ella Hill Expressive Arts Center on Oak Island. Ms. Hill Noll specializes in cross-cultural healing arts and also teaches in the UNCW Pathways program.
Anyone can attend. Participants are encouraged to bring their own cushions or folding chairs.
Anyone unable to attend one of the events is still welcome to stop by the monastery.
The teachings of Buddha, Phrakru Buddhamonpricha explains, can help achieve peace of mind. In the wake of disasters such as Hurricane Katrina, he said, "It is important that we do good. Good gets a good reaction. We cannot let ourselves become angry."
This message reached groundskeeper Shane Huddleston, a graduate of UNC-Wilmington who visited the monastery after returning to Wilmington from a year in Hawaii. Currently he lives at the monastery and one day hopes to study to become a monk.
When asked why Buddhism appealed to him, Mr. Huddleston said, "I guess the teachings just made sense to me."