Emotions run high as Buddhist temple opens
by Nicole Lozare, Pensacola News Journal, Nov 6, 2005
Pensacola, FL (USA) -- Before the blessing Sunday of the new Dieu De Buddhist Temple, worshippers said goodbye to their humble beginnings.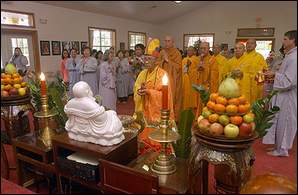 << Buddhist monk The Venerable Thich Tri Chon blesses the new Dieu De Buddhist Temple on Sunday during the temple's grand opening. The congregation raised $350,000 to fund the construction of the new temple.

The women lined up opposite the men. All recited solemn chants in Vietnamese as the Buddhist monks -- guests from throughout the United States -- went inside the old two-story house that served for years as a place of worship for Pensacola's Buddhists.
As part of tradition, the monks waited for an invitation to the new temple on Nims Lane off Nine Mile Road. Upon the invitation, they made the slow march to bless the new place of worship.
For some, the day's tradition-filled, ribbon-cutting ceremony was an emotional one. It signaled the success of the quietly struggling Vietnamese community.
"We've been looking forward to this day for a long time," said Justin Phan, the temple's vice president. "We never thought this was possible."
With a number of worshipers existing on low incomes, raising money proved to be difficult, he said. The new brick, one-story temple was finished more than a year ago. But the 150-family congregation was waiting on this week's completion of the red gate and the pagoda before they could celebrate the temple's official opening.
The new temple cost $350,000 to construct.
"It feels like we accomplished something big," said member Hong Nguyen, who cried during the ceremony. "It's good for the younger generation to maintain Buddhism and Vietnamese culture. Temple is where we let go of every-day worries. Here, we are all equal."
The Venerable Thich Tri Cho'n, a visiting monk from California who has seen the temple from its beginnings, stressed to the crowd the importance of faith.
"The symbol of a temple is to hold our traditions and our values," the monk said in Vietnamese, as temple member Cang Pham translated. "If we keep our temple, we keep our traditions."