Tibetan monks make it picture-perfect Thanksgiving
By Macollvie Jean-François, South Florida Sun-Sentinel, November 25 2005
TAMARAC, Florida (USA) -- Inside the high-ceilinged main hall of the International Buddhist Progress Society's temple on Thursday, seven Tibetan monks crouched a few feet from the altar of a gleaming white porcelain Buddha, prostrating over a blue, square board set on the hardwood floor.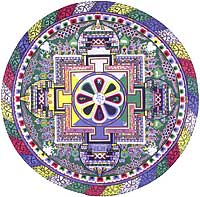 << The Chenrezig Mandala
Along the sidewalls, about 25 onlookers stretched their necks to watch them sketch a mandala, an elaborate diagram said to help in meditation, with lines covered in brightly colored sand.
For the curious and the faithful, watching the first stage of the Chenresig Buddha (Lord of Infinite Compassion) mandala was a perfect way to start Thanksgiving.
"This is Thanksgiving for us: appreciating your life, having gratitude for the good things, and even the bad things," said Rosita Wong, a Pembroke Pines reiki healer who planned to have turkey later that day.
In a slow, four-day process requiring exact measurements, the monks will fill in the diagram's lines daily with sand dyed orange, lavender, red, blue, green and other colors -- only to dismantle it in five minutes come Sunday. The centuries-old event dazzles many with its color, chants and music.
The Chenresig mandala is meant to elicit compassion from those who gaze at it, believers say, and taking it apart signifies the impermanence of life.
"All that hard work will be dismantled, just like our lives," Mai Nguyen, a coordinator of the monks' South Florida tour, said. "We work real hard and in the end, we just let it go. We can't hold on to it."
Creating a physical representation of the purification prayers chanted during the opening ceremony is the goal of a mandala, said Khensur Rinpoche Tsultrim Phintshog, who leads the group of monks from the Drepung Gomang Monastery in India.
"Some people who come to see it ... get a feeling of appreciation for a piece of art," he said through an interpreter.
"For others who come with true faith, you gain merit."
The ceremony also served as another opportunity, besides at the Thanksgiving dinner table, to say thanks and to release the stress Hurricane Wilma caused.
While in South Florida, the monks will also construct a Tsepagme Buddha mandala at Palmer Trinity School in Miami to honor the Lord of Boundless Light and another Chenresig diagram at Ransom Everglades School in Coconut Grove.
"There's so much love put in the creation of it, it makes you feel relieved," Wong said of the process.