Mom battling breast cancer finds peace through Buddhism
WWAY News Channel 3, March 17, 2006
Bolivia, North Carolina (USA) -- This is the scene on Sundays at Wat Carolina. Folks leave their shoes at the door, recite the five precepts and meditate for good karma. It's a Buddhist temple in Bolivia, one of only a handful in southeastern North Carolina.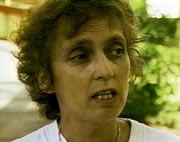 << Monika Tippins says meditation helped her to cope with breast cancer
Spiritual leader Phrakru said, "Buddhism is like a compass that directs people to the good place, the right place, the right direction."
Monika Tippins and her daughter Catherine come here every week. It's a new religion for both of them and they say it helps them deal with their tough past. First, a divorce that left Catherine with an often absent dad.
"When I see other people with their fathers I would feel a little jealous of that. And recently I have just been letting it go," Catherine said.
Letting it go is a big part of what they've started doing -- and feeling OK with whatever life throws their way.
Three years ago Monika was diagnosed with breast cancer. And just when the Tippins thought they were done spending time around hospitals, their coping strategy of meditation became an important tool again.
Monika Tippins said, "When I found out that probably the cancer has returned ... I just came back here to Phrakru, and he just helped me so much. I am so calm."
Phrakru told Monika to get good karma she needs to meditate for the goodwill of others, because what goes around comes around.
Even though their lives aren't all roses, congregation members say Buddhism is more than "doing good" and "feeling good." It's about understanding the true nature of reality, and that in theory brings an end to suffering.
"You feel good when you leave here. You feel like you are at peace," Monika said.
That peaceful feeling is what keeps them coming back and living by faith.