Buddhist monk illustrates belief grain by grain
by GREG GARRISON, The Birmingham News, March 24, 2006
Birmingham, Alabama (USA) -- For three years in a row, Lama Tenzin Deshek has created elaborate pieces of art made out of colored sand. Last week in the lobby of McWane Science Center, the Tibetan Buddhist monk shook out grains of colored sand from a metal funnel, creating a quilt-like pattern on a slate table. On Saturday, he dismantled it, sweeping the sand off the table with brushes, a symbol of the transitory nature of life.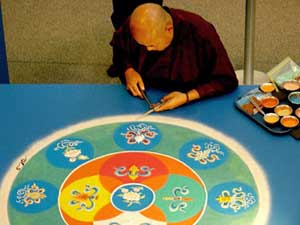 For thousands of people in Alabama, his artwork has served as an introduction to Tibetan Buddhism. It has also helped generate interest in a small but burgeoning community of Buddhists in Birmingham, the Losel Maitri Tibetan Buddhist Center. Deshek serves as spiritual leader to a 50-member congregation.
"Losel Maitri is open for everyone, not just for Buddhists," Deshek said. "The majority who come are not Buddhists, but are interested in Buddhist philosophy."
On Tuesday nights, several dozen people gather to read, discuss and study books on Buddhism in Room 116B of the Commerce Square office building on Belwood Drive in Cahaba Heights.
"We do prayers in Tibetan and English, and a short meditation," said Leslie Bradburn, a member of Losel Maitri. On Sundays at 2 p.m., they meet for a sadhana, a prayer for compassion.
"It's a prayer that we recite together to help promote love and compassion," said community member Clare Emily Clifford, an assistant professor of English at the University of Alabama in Birmingham. She was part of a group of five Buddhists from Birmingham who traveled to India in January to attend a 10-day teaching program led by the spiritual leader of Tibetan Buddhists, the Dalai Lama. Deshek presented a large jar of Alabama honey, bought at the Pepper Place Farmer's Market, to his teacher, the Dalai Lama.
"That has been an exciting thing for Losel Maitri, to see how lucky we are to have such a close connection to such a great teacher," Clifford said.
Bradburn said she became a Buddhist about seven years ago, at the age of 40. "All my life I've been interested in Buddhism," she said. "I always wanted to study under a monk, but wondered, 'Where am I going to find a Buddhist monk to study under?'" Then Deshek moved to Birmingham three years ago to lead the small Buddhist group that had started several years earlier.
"I've been going there ever since," Bradburn said.
A woman approached Bradburn and Clifford in McWane Science Center's lobby last week and asked, "What do you believe?"
"We believe in love and compassion," Clifford said. "It's a religion that's based on love and kindness."
Buddhism is based on the teachings, or Dharma, of the Indian philosopher Siddhartha Gautama, who lived about 483 B.C. and is known as the Buddha. The Buddha's essential teaching is that suffering persists from life to life and one can only escape into nirvana by achieving perfection through mental and moral self-purification. Buddhists believe in reincarnation, with the soul moving sometimes from one species to another.
Deshek was born in Tibet near Mt. Kailash. He grew up as part of a nomadic family that kept herds of yaks and horses. They lived in tents made of yak fur.
China invaded and occupied Tibet in 1959. Tibetan monks, including their spiritual leader, the Dalai Lama, fled to India. At age 10, he escaped Tibet with his family by walking for three months through the Himalayan mountains from Tibet to Nepal to India, with only barley flour and yak cheese to eat.
Deshek learned the art of making sand mandalas at Namgyal Monastery in India. Working alone, he can create a mandala in six days, working eight hours a day. This time, he said he worked more slowly to allow as many visitors to McWane Science Center as possible to see how he goes about creating the sand art.
The design radiated outward in the shape of an imaginary palace with four gates.
The mandala includes symbolism of Buddha's eightfold path to perfection — right belief, right resolution, right speech, right action, right living, right effort, right thinking and peace of mind through meditation. The colors of the mandala are associated with the elements of earth (yellow), air (green), water (blue) and fire (red). Deshek said he wants to promote peace and awareness of Tibetan culture with the creation of the mandala.
"Part of why he does this mandala every year is as a gift to the city of Birmingham," Clifford said. "He wants to share something with this community that has enriched his life."