Sightseers Flock to Buddha Wall
API, April 1, 2006
Naples, FL (USA) -- In a city better known for its proximity to the proposed Roman Catholic development of Ave Maria, Florida, authorities are wondering how to deal with a growing stream of Buddhist pilgrims.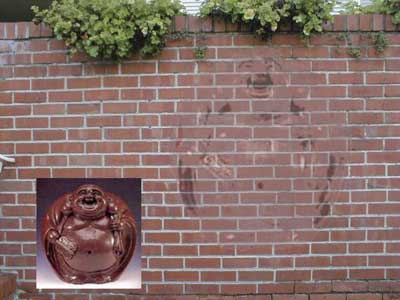 << Reported apparition and Hotei statue (inset).
"It's to the point of being a real traffic problem," said Naples Director of Street Safety Lisa Cagle. "We're probably getting two or three hundred people a day looking for the Buddha Wall."
The Buddha Wall is a 7-foot high brick fence facing a quiet residential street in one of Naples' older subdivisions. Until a few weeks ago, the wall hardly drew a second glance. That was until Dan Andrews noticed a face forming on its surface.
"I jog past that wall every day," said Andrews, a local building contractor. "Then one morning I noticed it seemed to have an image of that Buddha guy on it."
Andrews brought the apparition to the attention of Naples resident and self-described "dharma bum" Tony Ronca, who posted pictures of the wall to his MySpace page on the internet.
"It's not actually the Buddha," commented Ronca. "It's Hotei, a friendly deity popular in China and Japan."
Hotei is probably most familiar to Westerners as the smiling, obese statue common at the entrances of Asian food restaurants. It's considered good luck to run his belly. Whether Hotei was a historical figure is a matter of academic debate — as is the nature of the marks on the Buddha Wall.
Ronca is a believer. "I saw what Dan did right away," said Ronca. "The shape is really obvious, and it's getting darker and easier to see every day."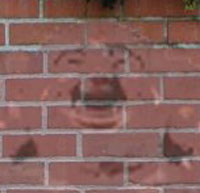 Hotei face (detail) >>
Standing in front of the Buddha Wall, Ronca traces the figure's outline with his finger.
"The face is what's so recognizable," explains Ronca. "There's the open mouth, as if he's laughing. You can see his belly button down here. But what's really wild is what appears to be decorative patterns where Hotei traditionally holds his fan.'
Apparitions of the Virgin Mary or the face of Jesus are sometimes reported in Roman Catholic tradition. Onlookers and the faithful have recently been drawn to an overpass on Interstate 74 near Moline, Illinois, where some say they see an image of Our Lady of Guadeloupe. A vision of the Madonna on a burnt wall is currently being venerated by pilgrims in Mexico, Maine. And a Hollywood, Florida woman discovered an image of Mary on a grilled cheese sandwich in 2004. It sold on eBay for $28,000.
But these types of apparitions are uncommon among Buddhists, particularly in North America. Perhaps that's why the Buddha Wall is drawing national attention.
"People started visiting almost as soon as I put the pictures in the Web," said Ronca. "We even had a group of monks from Atlanta the other day."
Hotei's smiling face has begun to draw frowns from nearby neighbors, some of whom are annoyed by late-night chanting, the clouds of incense, and visitors blocking their driveways. Louise Tucker lives almost directly across the street from the Buddha Wall, and says she wishes the traffic would go away. She also has a very earthly explanation for the apparition.
"It sure looks like water seeping through to me," explained Tucker. "We had Hurricane Wilma last year. Wind like that can blow rain right through brick."
Ronca dismisses the idea.
"It doesn't feel wet, and Wilma was months ago," said Ronca. "And some of the detail is lighter than the surrounding brick, so it can't be rainwater."
Ronca says he's like to send samples of the brick to a laboratory in Massachusetts for analysis, but the owner of the Buddha Wall isn't cooperating. And he offers an explanation of his own for the image.
"I think it has something to do with Ave Maria," he confided.
Ave Maria — just 17 miles east of Naples — is the planned Roman Catholic town and university being bankrolled by Domino's Pizza founder Tom Monaghan. Groundbreaking began last month, about the time the image was first reported. The development is being viewed suspiciously by groups like the American Civil Liberties Union, which is concerned about religious and social restrictions in the new community. Residents will begin to occupy Ave Maria sometime in 2007.
"If this is Hotei, I think he's here to tell us something," speculated Ronca. "It's like, hey, there's more to this part of Florida than Catholics. We have people of all faiths here."
Apparently there are also apparitions of all faiths, too.