Buddhists celebrate founder's birthday
by Sandra Pedicini, Sun-Sentinel, May 8 2006
Adherents mark the occasion with a ceremony and a temple tour
Orlando, FL (USA) -- For Buddhists around the world, this is the time to celebrate the birthday of their religion's founder.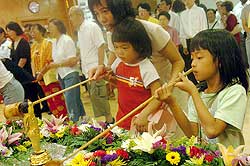 << Bathing statue of Buddha
(SARA A. FAJARDO/ORLANDO SENTINEL)
On Sunday, dignitaries joined the local chapter of Buddha's Light International Association for a Bathing of the Buddha ceremony at the Guang Ming Temple's temporary home in an industrial park off Orange Blossom Trail. That was followed by a trip to the massive temple being constructed on Hoffner Avenue, where members of Guang Ming hope to be headquartered the next time Buddha's birthday rolls around.
The celebration Sunday was to commemorate the birthday of Buddha, born Prince Siddhartha Gautama more than 2,500 years ago. Buddha's birthday fell on Friday this year, according to the lunar calendar.
According to legend, after his birth, celestial dragons washed the prince with fragrant rain that sprang from their mouths. After the bath, the young prince was purified in body and mind.
"He was the teacher teaching us how to open our mind, be more compassionate," said Venerable Chueh Yang, a Buddhist nun who spoke at the ceremony.
The celebration of his birthday and Bathing of the Buddha is "an opportunity for people to, I guess, refresh or cleanse their own spiritual life and outlook on life," said James Murphy, a member of the Guang Ming temple.
Sunday morning, a crowd chanted and folded their hands prayerfully in front of three Buddha statues surrounded by colorful flowers and treats. Two spiritual leaders in orange robes banged out a rhythm that the crowd chanted along with.
Between them and the crowd sat a long table adorned with small statues of the baby Buddha pointing to the sky, and wooden ladles that people used to scoop water and gently pour it over Buddha's shoulder and finger.
Afterward, buses took people to the three-story, 29,000-square-foot temple under construction. It is expected to open early next year.
Its features will include classrooms, a mausoleum and a Buddha statue weighing more than 25,000 pounds.