Counselor uses Buddhist faith to guide and teach others
By Victoria Malmer, Palm Beach Post, July 12, 2006
Palm Beach, FL (USA) -- Maya Malay started out as a little Presbyterian girl in Falls Church, Va. But life is a long, strange trip, and it steered her toward counseling and helping others in the Buddhist faith.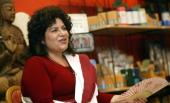 << Maya Malay leads a Loving Relationship Training session at Changing Times bookstore in West Palm Beach. Malay, who has a master's degree in theology, offers group and individual counseling, meditation classes and workshops through the Palm Beach Dharma Center in Lake Worth - Eliza Gutierrez, Palm Beach Post, July 12, 2006
Now she's a pastoral counselor and ngakma, which is similar to a nun, but more worldly. She was ordained by the Palm Beach Dharma Center and wears robes. "I've dedicated my life to alleviating suffering in any way I can," she said.
She does group and individual counseling, meditation classes and workshops through the Palm Beach Dharma Center in Lake Worth.
"I love teaching meditation," she said. "I love that my work helps people get out of the struggles they have with their own minds, their selves and their relationships.
"We learn to utilize thoughts that will enhance our lives and add to our peace and well-being."
She's worked for seven years at the Dharma Center, which was founded by two brothers, the Venerable Khenchen Palden Sherab Rinpoche and the Venerable Khenpo Tsewang Dongyal Rinpoche.
Growing up, "I went every Sunday to a Presbyterian church," she said. "I had a great love for the church as a child. I love my Christian roots."
Buddhism "cultivates love and compassion for everyone," she said.
"Buddhism doesn't exclude, it embraces other religions. We are taught not to abandon the beliefs of our pasts."
When she was 15, she met her first formal teacher, an Indian guru. "I learned meditation and mantra," she said. "I incorporated those into my life immediately."
She got a fine arts undergraduate degree with a minor in theology from Virginia Commonwealth University in Richmond, Va.
She was running a pottery studio for the parks service in Fairfax County, Va., when a friend offered her a job at his fancy restaurant on the waterfront in Washington, D.C.
"I was 23 at the time," she said. "He trained me to be a bartender. It proved to be a wonderful job."
She began dating the dockmaster. Eventually, they set off on a two-year adventure on his boat, sailing as far north as Halifax, Nova Scotia, and as far south as the Exuma Islands in the Bahamas.
"It was an amazing lifestyle," she said. "It was a little primitive at times, but it taught me a lot, like how to live without power during hurricanes."
They ended up in Fort Lauderdale. "The land of lust and liquor" she calls it.
"He loved to work," she said. "He got a great job captaining a large yacht. I found a wonderful group of friends."
But he was away a lot, sailing the yacht. They grew apart and went their separate ways.
She eventually met someone else, and he brought her to Palm Beach County to live. They married and settled down. Malay found the Dharma Center, her spiritual home.
She ran a bookstore while earning a master's degree in theology at Florida Religious Studies Institute, which was in Fort Lauderdale.
After three years, she and her husband divorced. By then, Malay was starting her practice.
"I never had to work at building a counseling practice," she said.
"Before I knew it, I was in a full-time practice."
She also does public speaking, at places as diverse as The Mar-a-Lago Club and the Veterans Hospital in Riviera Beach.
She teaches meditation to women at Orchid Recovery Center in Palm Springs.
July 27-30, she will teach 40 couples in Jupiter what she calls LRT: Loving Relationship Training.
"Their lives are changed forever in four days," she said.
Her practice is in Lake Worth. She lives in a condominium on the Intracoastal Waterway in southern West Palm Beach. "God had to bribe me to stay in South Florida by giving me this condo," she said with a smile.
She loves reading and walking to the ocean from her home.
She still dabbles in art as a hobby, "but a lot of my free time is spent in my spiritual practice," she said. "I love my work.
"I help people end the turbulence that their thoughts can cause in their lives. Our health improves. Our relationships improve.
"In every arena, it comes back to the thoughts people are having."